Latest MCCU News
Massive pile up at Birmingham Open
26 Nov 2023. No fewer than five players ended on top of the Open tournament with 4 points each: John Potter (Derbys), Russell James (Warks), Kajus Mikalajunas (Leics), Benjamin Larkin (Warks) and Ruqayya Rida (Essex). The Major tournament was won by Santiago German (Philippines) with 4½ points; the Intermediate was shared by Tomek Dziedzic (Oxon) and James Thomas (Wales) who scored 4½ points and the Minor was won by Nicholas White (Bucks) with a clean 5 points from his games. The congress was held at King Edward VI Five Ways School, Bartley Green, Birmingham, attracted over 150 players and was organised by Alex Holowczak.
Nottinghamshire Centenary tournaments
3 Nov 2023. GM Eldar Gasanov (UKR) won the Grandmaster International tournament with 6½ points. IM Jonah Willow (Notts) was placed 2nd-3rd with Thomas Beerdsen (NDL) on 6. The parallel junior tournament was won by Furkan Bahtiyar (TUR) with 9 points and two Nottinghamshire juniors, Senith Gunarathne and Dinuga Basnayake tied for 2nd and third place on 7. The event was organised by Tim Wall.
WGM Kata Toma appointed ECF Non-Exec Director
1 Nov 2023. WGM Kata Toma (Worcs) has been appointed to a voluntary Non-Executive Director post. Stephen Woodhouse (Worcs) writes: "Kata will bring her playing and wider international experience to bear when advising the [ECF] Board and working with the other Directors."
Birmingham Rapidplay results
22 Oct 2023. There was a clean sweep by Warwickshire players in this event. IM Ameet Ghasi won the Open tournament scoring 6 points from 7 rounds. The Major (u2000) tournament was won by Furcan Ancar with 7 points; the Intermediate (u1750) by Steve Edwards; the Minor (u1500) by Omar Khemoudj with 6 points. The event was organised by Alex Holowczak and attracted 150 players. See full results.
Staffordshire u1450 blast Worcestershire to take Midlands team title
21 Oct 2023. Captains agreed to play an eight-board match for the u1450 Midlands team championship at Newcastle-u-Lyme Bridge Club. Staffordshire nearly had a clean sweep with only Worcestershire`s captain able to score. See score sheet.
ECF re-elects Home Director and combines membership categories
15 Oct 2023. There were two contested elections for ECF directorships. Nigel Towers (Worcs), the incumbent Director for Home Chess, won an overwhelmingly. The vote for a vacant Non-Executive Directorship was much closer with WIM Sarah Longson (Greater Manchester) beating WGM Katarzyna (Worcs) by 125 to 99 votes. A proposal from the ECF Board to merge silver and gold membership categories starting in September 2024 was narrowly accepted by 136 to 122 votes.
GM Hebden wins Derbyshire Open
24 Sep 2023. Mark Hebden (Leics) had a perfect 5/5 score to win the Open tournament. Other winners were: Major (u2000) Dragoljub Sudar (Notts) 4½, Intermediate (u1800) Matthew Bubis (Derbys); Minor (u1500) David Dunne 4½ (Yorks); Foundation (1350) Jonah Tomsett (Notts) 4½. A total of nearly 150 players competed in this inaugural Derbyshire event. See full results.
Seniors win MCCU Generation Game
23 Sep 2023. Seniors beat the Juniors in both legs of the Generation Game held at Bloxwich to celebrate the 125th anniversary of the MCCU. Ray Dolan (CEO MCCU) organised the 28-board match between young and old players at the Rycroft Community Centre Bloxwich.
Cllr Mark Statham (standing left) ready to make the first move to start the Generation Game board 1 game between Keith Thomas (Oscott CC) vs Stephen Gaskell (vice-captain of the Bloxwich Junior CC) with chief arbiter Ham Patel, and arbiter Andrew Lambert. See full results.
Click "News" on the menu bar above for other recent items.
Next in the Midlands
Text in blue-green links to entry form, website or email contact
Sun 10 Dec. Lincoln Rapidplay at Southside (former St Katherine's Church), Colegrave Street, Lincoln LN5 8DW. Six rounds starting 10am. Open, Major (u1900), and Minor (u1600) tournaments, time control 20 min +10 sec. Catering on site.
Next Junior tournament
Sun 3 Dec 2023. Warwickshire Junior Championships. Under-8, 10, 12, 14, 16, 18 sections for players born in, living in or going to school in Birmingham, Coventry, Solihull or Warwickshire LEAs. Contact Alex Holowczak for further information.
Online competitions
Link for all ECF online events.
Link for all 4NCL online events.
Next national event
Thu 28 Dec 2023 to Sun 7 Jan 2024. Caplin Hastings International Chess Congress at Horntye Park Sports Complex, Bohemia Road, Hastings TN341EX. Hastings Masters, New Year tournaments, Con Power Christmas Tournaments, and Hastings Weekend tournaments.

The "chess counties" forming the MCCU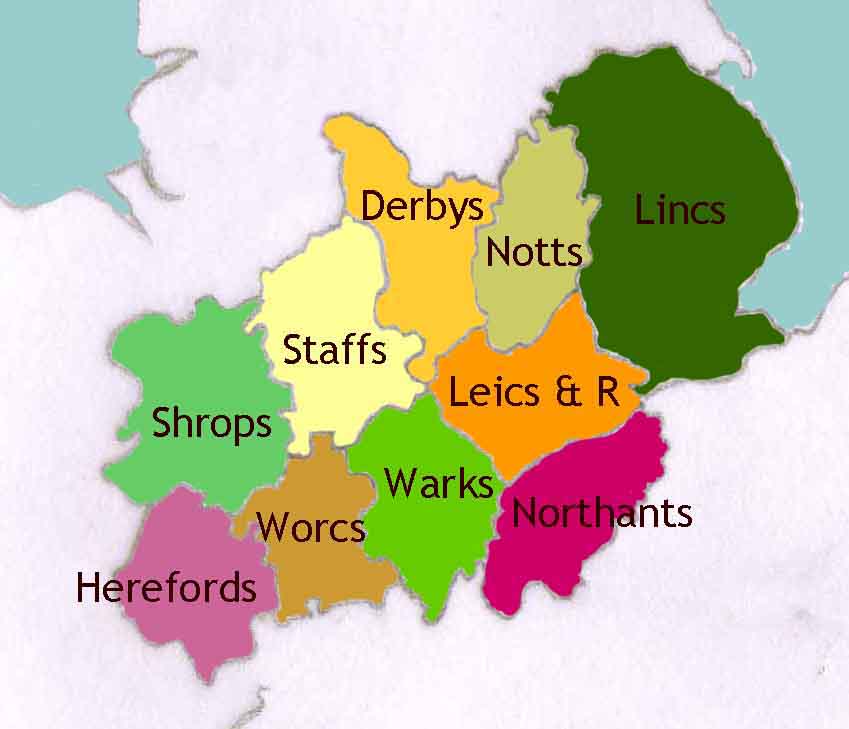 Ten "Chess Counties" form the Midland Counties Chess Union and cover the areas shown in the map on the right. A small Board of volunteer directors currently led by Chief Executive Ray Dolan (Staffs) is elected annually by delegates from member chess counties. The Board organises regional competitions based on policies agreed annually by delegates from member chess counties.
By playing in the competitions hosted on this website you agree that your name, chess rating and your membership status with the English Chess Federation (ECF) may be published on this website for the purposes of recording the results of the competitions. You also agree that such information will be passed to the ECF, the governing body, for rating purposes, and published on their website.