Latest MCCU News
MCCU correspondence team plays Natcor
27 Jul, Ray Dolan reports. Thirteen players will represent the MCCU in the match that is scheduled to start in August. Click for details on Corres Chess above.
CEO doubles up as Staffs secretary
18 Jul, Steve Emmerton reports. Ray Dolan was elected honorary secretary for Staffs CA at their AGM and Andrew Davies steps down to concentrate on his MCCU youth role.
MCCU retiral gift to PeterGibbs
13 Jul. Eunice and I on your behalf visited Peter and Celia Gibbs to present him with gift and thank-you card signed by members for 9 years as President of MCCU. Thank you for everything you done for Chess.
| | |
| --- | --- |
| Eunice and Ray Dolan present Peter Gibbs (centre) with thank-you card and gift | Peter Gibbs, on the right playing black, faces Spassky in the 1960 UK-USSR students' team championship match at Leningrad (now St Petersburg) |
Ashton Rapidplay results
9 Jul. The u150 section was won by Paul Woodfinden (Northwich) and u130 grading prize by Phil Colville (Macclesfield, GMC); the u115 section by Michael Fisher (Oldham, GMC) with the u95 grading prize going to local player Denzel Supatan (Ashton, GMC); the u80 section was won by Sajjad Dehghan-Afifi (Sale, GMC). The Tameside jun ior prize went to Ross Evans (Ashton). After the congress, director David Hardy thanked CSC and Ashton Town Council for support and declared: "The success this year means it will become a firm fixture in the chess calendar". See ECF website for pics and full results.
Two Midlands teams win national counties finals
1 Jul, Nigel Birtwistle reports. Lincolnshire beat Suffolk to win the Minor Counties final. In the all-Midlands under-100, Leicestershire had a clear win over Warwickshire. Nottinghamshire under-140s went down to Lancashire.
MCCU annual meeting: new president and correspondence team
17 Jun. John Pakenham (Warley Quinborne & Warks) was elected. Other new post-holders are: Meetings Chairman - Paul Sharratt (Stourbridge & Worcs), Safeguarding Officer - Andrew Davies (Brewood, & Staffs). The MCCU has challenged Natcor, National Correspondence Chess Club, to a 12-board friendly match with 4 boards each webserver, e-mail and traditional postal. Please contact Ray Dolan if you would like to represent the Midlands.
Click "News" on the menu bar above for other recent items.
MCCU Congress at West Brom
Fri 11 to Sun 13 August 2017
For details, visit links from here or Congress and Junior Events pages
Next in the Midlands
Fri to Sun 11 to 13 Aug. MCCU@West Brom. Five rounds FIDE Open, FIDE Major (u1900/u160) and Minor (u130).
Next Midlands & national junior events
Sun 11 Sep. Leamington Junior at SYNDI Centre, Sydenham for under-9s and under-11s.
Next National Event
Fri 28 Jul to Tue 6 Aug. British Championships at Venue Cymru, Llandudno, Wales. The British Chess Championship and tournaments for all
The "chess counties" forming the MCCU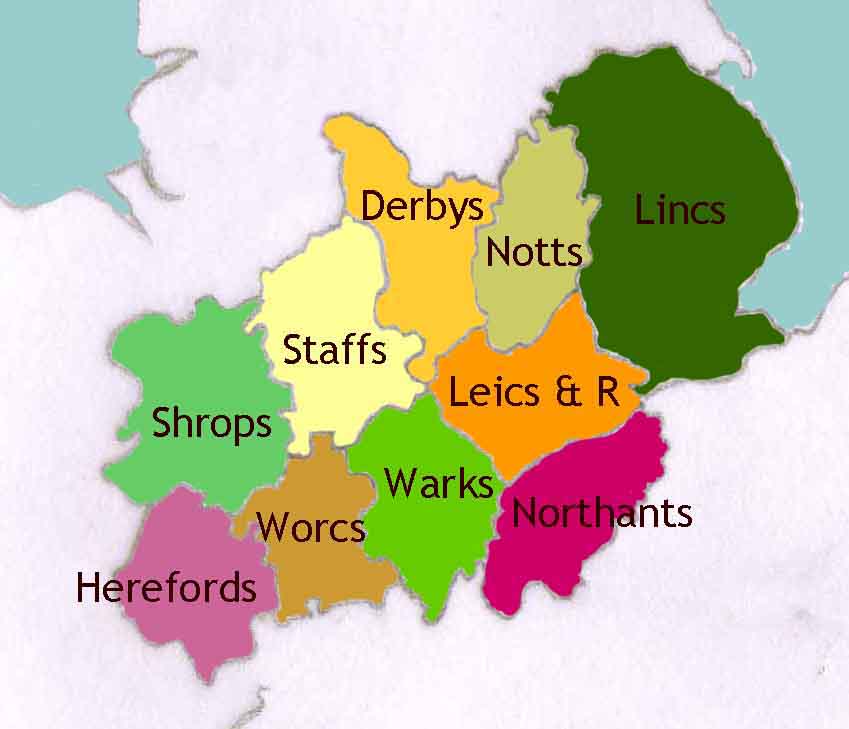 Eleven "Chess Counties" form the Midland Counties Chess Union and cover the areas shown in the map on the right. A small Board of volunteer directors currently led by Chief Executive Ray Dolan (Staffs) is elected annually by delegates from member chess counties. The Board organises regional competitions based on policies agreed annually by delegates from member chess counties.
The MCCU
The current webmaster is Ray Collett (Worcs). The website's policy is to report results of the MCCU competitions, principally the MCCU county team tournaments and the Midlands Grand Prix. Brief results of chess congresses held in the MCCU area and and links to organisers' websites are on the "News" pages. A calendar of upcoming chess congresses is on the "Congresses" pages. Some important national and international chess events will also be reported if there is a "Midlands" interest. In the menu bar above: "About" gives more information about the MCCU and has links to rules and administrative papers; "Guide" explains the site's organisation and provides links to most of the site's key pages.
Please send news of Midlands chess events, corrections, notifications of broken links, and suggestions to improve the website to Ray Collett.