Latest MCCU News
Cannock and District League
11 Jul, Ray Dolan reports. Sutton Coldfield were League champions. Rushall and Lichfield shared the Division 2 title and Rugeley won Division 3. Two new clubs, Coleshill and Norton Canes will join next season and the league will have four divisions in 2016-7. The Robert Ward trophy was won by Rich Wiltshir (Rushall) and the Plate by A (Sandy) Wilson (Boldmere).
Medals for Midland senior GMs
3 Jul, In the World Senior Championships at Dresden, England A won bronze for team position behind Germany 1st and Armenia 2nd. There were individual medals for Mark Hebden (gold) for 7½/9 on board 3 and Arkell (silver) with 6/7.
County team championships: Worcestershire and Nottinghamshire teams win titles
2 Jul, ECF website reports. Worcestershire under-140 won its first ever national final beating Surrey. In the all Midlands under-120 final Nottinghamshire beat Warwickshire. Lincolnshire in the minor counties' final lost out to Norfolk. The national county team champions are Yorkshire, soundly beating Middlesex. See county matches national page for scores and links to full Midland match results.
MCCU annual meeting
25 Jun. Derbyshire hosted the annual meeting at Rolls Royce, Derby. There were few changes in officers. Andrew Davies (Staffs) takes over from David Levens (Notts) as Junior Director and Eunice Dolan (Staffs) takes over from Drag Sudar (Notts) as one of the two non-executive directors. Minor changes were proposed by Notts and Derbys to the county team competition rules were approved. The union also agreed to adopt the safeguarding policy, procedures and code of conduct recently circulated by the ECF.
Jim Friar
13 Jun. Jim Friar, 2015-6 captain of Worcestershire's 2015-6 Minor counties team died on after a short battle with illness at home on 27 May. A requiem mass to celebrate his life at St Wulstans & St Thomas of Canterbury, Stourport-on-Severn was attended by well over two hundred mourners and over twenty chess players from at least three counties went to the wake. Tributes to Jim can be viewed on the ECForum. Our condolences to his wife, Teresa, and gifted chess-playing sons James and Joseph.
Four Midland teams in county champ finals
11 Jun, Paul Sharratt and ECF report. In the minor counties, Lincs beat Cambs; Worcs beat Notts in the u140 reversing the earlier MCCU stage result, and there will be a an all-Midland final in the u120 — Notts-Warks. In the u100, Notts lost to Essex.
England 2016 Olympiad team
6 Jun, ECF website reports. Michael Adams, David Howell, Nigel Short, Luke McShane, and Gawain Jones are in the Open and the women's team is: Jovanka Houska, Dagne Ciuksyte, Akshaya Kalaiyalahan, Sarah Longson and Kanwal Bhatia.
Click "News" on the menu bar above for other recent items.
For details, visit links from here or Congress and Junior Events pages
Upcoming in the Midlands
Sat & Sun 13 & 14 Aug MCCU@Walsall at Ryecroft Community Hub, Bloxwich, Walsall. Open, Major, Intermediate and Minor tournaments
Next National Event
23 Jul to 6 Aug. 2016 British Championships at Bournemouth Pavilion.
Next Midlands & national junior events
Sat & Sun 9, 10 July Northern Gigafinal of the Delancey UK Schools Chess Challenge at Wright Robinson College, Manchester. [by invitation only]
The "chess counties" forming the MCCU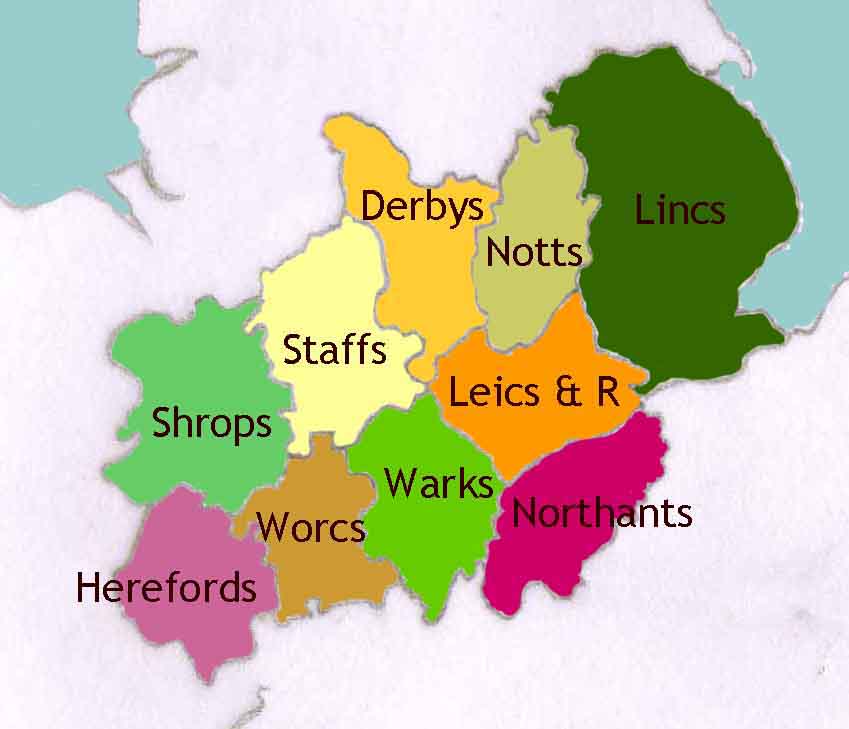 Eleven "Chess Counties" form the Midland Counties Chess Union and cover the areas shown in the map on the right. A small Board of volunteer directors currently led by Chief Executive Ray Dolan (Staffs) is elected annually by delegates from member chess counties. The Board organises regional competitions based on policies agreed annually by delegates from member chess counties.