Latest MCCU News
ECF deadline for avoiding Game Fee
15 Jun, ECF website reports. To avoid Game Fees for the 2015-6 season, players who are not already ECf members should join before 30 June.
Jim Friar
13 Jun. Jim Friar, 2015-6 captain of Worcestershire's 2015-6 Minor counties team died on after a short battle with illness at home on 27 May. A requiem mass to celebrate his life at St Wulstans & St Thomas of Caturbury, Stourport-on-Severn was attended by well over two hundred mourners and over twenty chess players from at least three counties went to the wake. Tributes to Jim can be viewed on the ECForum. Our condolences to his wife, Teresa, and gifted chess-playing sons James and Joseph.
Four Midland teams in county champ finals
11 Jun, Paul Sharratt and ECF report. In the minor counties, Lincs beat Cambs; Worcs beat Notts in the u140 reversing the earlier MCCU stage result, and there will be a an all-Midland final in the u120 — Notts-Warks. In the u100, Notts lost to Essex.
England 2016 Olympiad team
6 Jun, ECF website reports. Michael Adams, David Howell, Nigel Short, Luke McShane, and Gawain Jones are in the Open and the women's team is: Jovanka Houska, Dagne Ciuksyte, Akshaya Kalaiyalahan, Sarah Longson and Kanwal Bhatia.
Midlanders win in South Lakes Congress
5 Jun, ECF website reports. Keith Arkell (Worcs) won first and Mike Surtees shared the second prize in the Open. karl Potter (Leics) shared second in the Major, Rich Wilshir (Staffs) shared second in the Intermediate and Steve Rush (GMC) shared second in the Minor 2 tournament.
Joseph McPhillips wins at Atherton
31 May, ECF website reports. Joseph was top seed and duly won the Open section of this rapidplay event. Fellow Bolton club member Nick Barnaby shared first prize in the u165 competition.
County team quarter finals
21 May. In the minor Counties, Lincolnshire beat Essex. Worcestershire u140 had thumping victory over Kent (and were lucky to escape a reversal of the result after two of their players were found not to have been cleared for play) and Nottinghamshire beat Hertfordshire in spite of being a man down. These results set up an all-MCCU semi final between Worcs and Notts. Leics u100 lost by a single point to Essex at Peterborough and their minor counties team lost to Cambridgeshire. Warwickshire u180 and Nottinghamshire u160 lost to Surrey teams and Lincolnshire u120 lost to Norfolk. Nottinghamshire u120 beat Surrey and Warwickshire u100 lost to Kent.
Click "News" on the menu bar above for other recent items.
For details, visit links from here or Congress and Junior Events pages
MCCU congress
Sat & Sun 13 & 14 Aug MCCU@Walsall at Ryecroft Community Hub, Bloxwich, Walsall. Open, Major, Intermediate and Minor tournaments
Upcoming in the Midlands
Sat 25 June. MCCU Annual General Meeting for officers and county representatives. At 2pm at the Rolls Royce Social Club, Allenton, Derby
Next National Event
23 Jul to 6 Aug. 2016 British Championships at Bournemouth Pavilion.
Next Midlands & national junior events
Sun 8 May Warwickshire Megafinal of the Delancey UK Schools Chess Challenge.
The "chess counties" forming the MCCU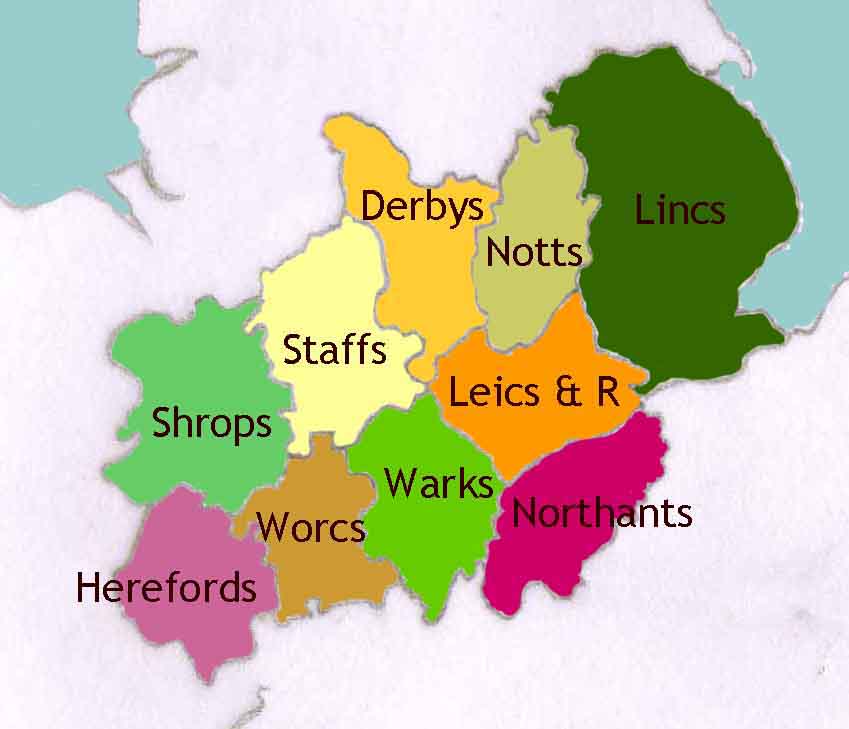 Eleven "Chess Counties" form the Midland Counties Chess Union and cover the areas shown in the map on the right. A small Board of volunteer directors currently led by Chief Executive Ray Dolan (Staffs) is elected annually by delegates from member chess counties. The Board organises regional competitions based on policies agreed annually by delegates from member chess counties.