Latest MCCU News
County team quarter finals
21 May. In the minor Counties, Lincolnshire beat Essex. Worcestershire u140 had thumping victory over Kent and Nottinghamshire beat Hertfordshire in spite of being a man down. These results set up an all-MCCU semi final between Worcs and Notts. Leics u100 lost by a single point to Essex at Peterborough.
Cheddleton pipped to 4NCL title
2 May, Rhys Cumming reports. Cheddleton, lying second in the championship pool, lost unexpectedly to White Rose I and then to the chmpionship winners Guildford I. Thre Cs, Oldham and Grantham Sharks in the Demotion pool were not relegated to division 2 finishing first and third respectively. Warwick Select I also survived to stay in Division 2.
First national stage county result in
23 Apr. In the preliminary round of the Minor Counties competition, Lincolnshire beat Cornwall at Yate, Glos. Lincolnshire will face Essex in the quarter final.
Capacity Nottingham Congress
17 Apr, Neil Graham reports. GM Keith Arkell was 1st in the Open with a clean score of 5 points with six players in joint 2nd place on 3½ points. David Williams (Derbys) won the Major, Marcel Taylor (Radcliffe & Bingham) the Intermediate and Robert Crater (Nottingham Univ) and Nathan Cragg (Ashfield) won the Minor. The event attracted 170 players.
ECF meeting leaves fees unchanged
16 Apr, ECF website reports. At its Finance Council meeting in London, the English Chess Federation voted to leave membership fees unchanged and use reserves to finance some of the new initiatives. The meeting approved 3-year terms for elected directors and some committees in a bid to ensure greater continuity. From 2017, games in the national stage of the Open County teams competition will be FIDE-rated.
Cyril Johnson
3 Apr. Ray Dolan writes. Cyril Johnson passed away on 1st April 2016 aged 69. The funeral service will be held at St Peter & Paul's Parish Church, Syston at 12 noon on 22 April. Cyril was an Honorary Life Vice President of MCCU, a member of the MCCU Board, notably as Events Director and Meeting Chairman. The contributions he made over many, many years to the chess world, both in the Midlands, and ECF and BCF Boards, were amazing. He will be sadly missed. Cyril is survived by Julie who was always by his side at chess events. Our heart felt condolences to Julie. There is also a short tribute from John Philpott on the ECF website.
Bolton Easter congress
27 Mar, Mick Norris and Rod Middleton report. The Open was won by Stephen Jones, 5 points, ahead of Mike Surtees (Great Lever) on 4½ points. Dean Hartley (Amber Valley) with 4 points won the Major and the Knights competition was won by Jason Widdup (Morecambe). The associated one-day Busy Persons Blitz saw Andrew Horton (3Cs, Oldham, GMC) win all eight games with Stephen Jones trailining on 7 points coming second. Eighty players took part. More details for the MCF website.
MCCU Annual meeting
CEO Ray Dolan, President has fixed the date and venue for the annual; meeting: Saturday 25 June starting at 2pm at the Rolls Royce Social Club, The Pavilion, Moor Lane, Allenton, Derby DE24 9HY.
Midlands teams in 4NCL
20 Mar, 4NCL website reports. After rounds 5 and 6 of the 4 Nations Chess league, Cheddleton are top of Division 1A beating 3Cs, the Oldham based club, and Guildford 2. 3Cs are mid-table. In Dividion 1B, Grantham Sharks are also mid-table drawing with Blackthorne Russia and losing to Sussex Martlets.
Midlands nominations for national stages
18 Mar, controller reports. Staffordshire have been offered the U100 M3 place but have declined because of other commitments. Leics have agreed to take Staffs' place and have been nominated by the MCCU.
2015-6 Midands County team nominations

| | | | |
| --- | --- | --- | --- |
| Section | M1 | M2 | M3 |
| Open | Staffs | | |
| Minor | Notts | Leics | Lincs |
| u180 | Warks | | |
| u160 | Notts | G Manch | |
| u140 | Notts | Derbys | Worcs |
| u120 | Notts | Warks | Lincs |
| u100 | Notts | Warks | Leics |
Click "News" on the menu bar above for other recent items.
For details, visit links from here or Congress and Junior Events pages
MCCU congress
Sat & Sun 13 & 14 Aug MCCU@Walsall at Ryecroft Community Hub, Bloxwich, Walsall. Open, Major, Intermediate and Minor tournaments
Upcoming in the Midlands
Sat 25 June. MCCU Annual General Meeting for officers and county representatives. At 2pm at the Rolls Royce Social Club, Allenton, Derby
Next National Event
23 Jul to 6 Aug. 2016 British Championships at Bournemouth Pavilion.
Next Midlands & national junior events
Sun 8 May Warwickshire Megafinal of the Delancey UK Schools Chess Challenge.
The "chess counties" forming the MCCU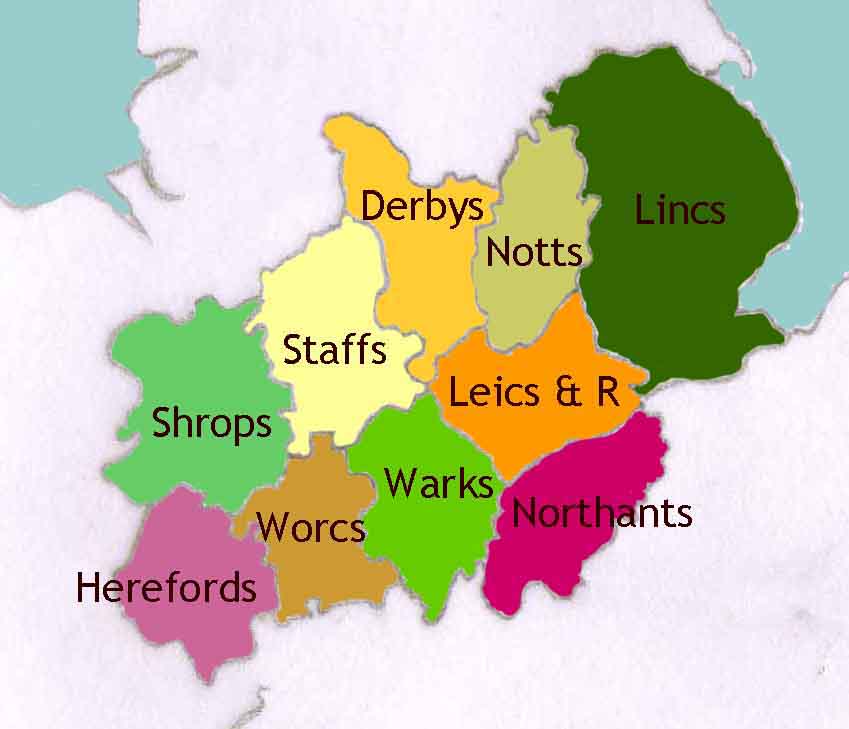 Eleven "Chess Counties" form the Midland Counties Chess Union and cover the areas shown in the map on the right. A small Board of volunteer directors currently led by Chief Executive Ray Dolan (Staffs) is elected annually by delegates from member chess counties. The Board organises regional competitions based on policies agreed annually by delegates from member chess counties.