Latest MCCU News
County match results
17 Nov. Warks defeated Leics and remain the only winning team in the u100 competition
10 Nov. In the u140 competition, Leics beat Staffs and Notts beat Derbys
3 Nov. Two u120 matches this weekend: Warks drew with Leics and Notts beat Worcs.
Dates for centennial county team competitions
31 Oct, ECF reports. Mark Murrell, Director of Home Chess has published the default dates for national stages of this year's centennial inter-counties competitions.
Preliminary Rounds – Saturday 27th April 2019
Quarter Finals (Open, Minor, Under 160, Under 120) – Saturday 11th May 2019
Quarter Finals (Under 180, Under 140, Under 100) – Saturday 18th May 2019
Semi-Finals – Saturday 8th June 2019.
Finals – Saturday 13th July 2019
County match results
27 Oct. Warks u140 beat Staffs, Worcs beat leics and Derbys beat Lincs
20 Oct. Derbys beat Leics in the u120 and Warks beat Notts in the u100.
ECF annual meeting seeks fee increases
13 Oct. Council approved the strategic plan, but it was confirmed that any fee increases would need a positive vote at a future meeting. Alex Holowczak (Worcs) was elected unopposed as Dirctor for Junior Chess in succession to Traci Whitfield (Staffs).
First county match results of the season
6 Oct. Lincs and Notts fought to a draw in the championship, while Warks beat local rivals Worcs and Staffs drew with Notts in the u120.
England placed 4th in the Batumi Olympiads
6 Oct. In spite of a convincing win against Kazakstan, England just missed out on a podium in Georgia and were unable to overhaul Poland. In fourth position, the team performance is a marked improvement on the last few years and David Howell on board 3 had a particularly good tournament. China won both the Open and the Women's team event and much-fancied USA were unable to make good on thier number 1 seeding in the Open.
Click "News" on the menu bar above for other recent items.
Next in the Midlands
Fri-Sun 4-6 Jan. Shropshire Congress at Wrekin Housing Trust, Colliers Way, Telford TF3 4AW. FIDÉ Open, Major, Intermediate and Minor tournaments.
Next Midlands & national junior events
Sun 13 Jan. Leicester Junior Open Congress at Leicester Grammar School, London Road, Great Glen. From 9:30am to 5:30pm, 6-round graded rapidplay, Open, Major u80, and minor u30.
Next National Event
9-28 Nov. World Chess Championship Carlsen-Caruana at The College, Holborn, London.
The "chess counties" forming the MCCU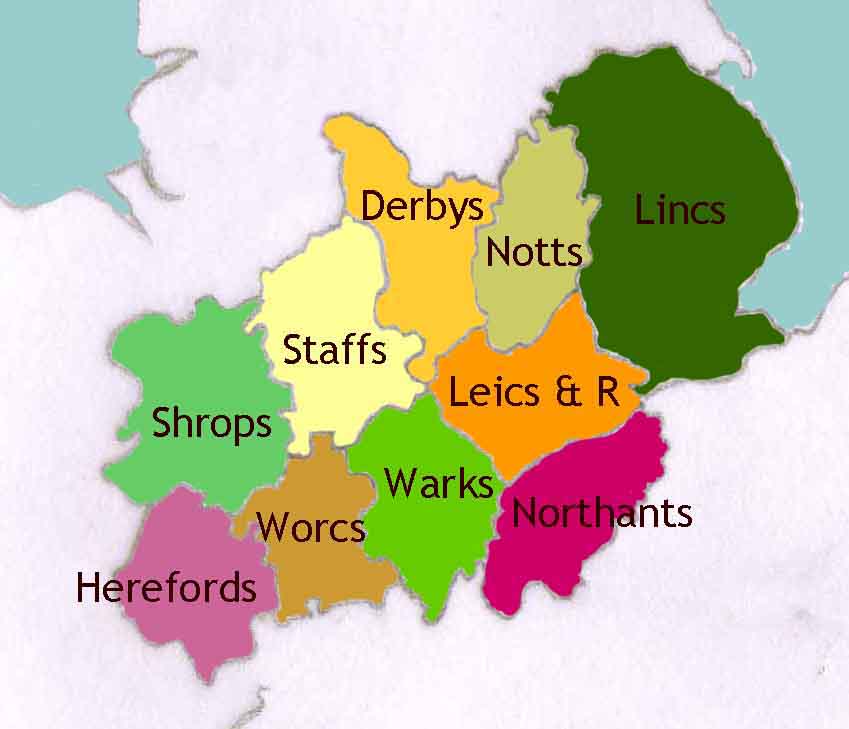 Eleven "Chess Counties" form the Midland Counties Chess Union and cover the areas shown in the map on the right. A small Board of volunteer directors currently led by Chief Executive Ray Dolan (Staffs) is elected annually by delegates from member chess counties. The Board organises regional competitions based on policies agreed annually by delegates from member chess counties.
By playing in the competitions hosted on this website you agree that your name, chess grade and your membership status with the English Chess Federation (ECF) may be published on this website for the purposes of recording the results of the competitions. You also agree that such information will be passed to the ECF, the governing body, for grading purposes, and published on their website.