Published 12 November 2012. Most recent stories at top. Season runs September to August.
2011-12 Season
Brandon Clarke wins UK Chess Challenge
18, 19 Aug 2012. At the UK Chess Challenge Terafinal in Loughborough, Brandon (Littlethorpe, Leics) picked up the Strat title a winning a play-off game against Jean-Luc Weller. Both players finished on 5½ after six rapidplay rounds. Andrew Horton (Didsbury Dynamos, GMC) scored 5 pointsand Andrew Weaving (Solihull Checkmates, Warks) 4½. Best Midlands girl was Amy Milson (Louth, Lincs) on 4 points.
Leo Tsoi represents England at Prague
16-25 Aug. Young Leo Tsoi of Boldmere St Michaels, Warks, represents England in Boys under-14 European Championships in Prague.
Stephen Gordon wins English Championship, but loses out to Gawain Jones for the British
3 Aug. Stephen (Three Cs, Oldham, GMC) scored 9 from his 11 games at North Shields. In the play-off, Gawain forced a win to take the British title. The best Midlanders in the Major Open were Richard Webster (West Bridgford, Notts) and Witham Armstrong (Cheddleton & Leek, Staffs) on 6½ from 11. In the Seniors Tournament, the best Midlanders were also midfield: Peter Collins (Lichfield, Staffs) and John van Gemeren (Spalding, Lincs). Peter Mercs (Gambit, Notts) was first in the Atkins Open weekender on 4½ from 5 games, and talented Hagley, Worcs, junior James Friar shared second place with 4 points out of 5 games in the Soanes graded weekender. For junior results, use "Juniors" menu button and then "Junior News". For an excellent commentary on Stephen's win agains GM Danny Gormally visit Yately Manor's YouTube video.
30 Jul. At the half-way stage, Robert Shaw (Buxton, Derbys) leads the Midlands players on 3 points from 7 games. Craig Whitfield, Jim Burnett, Mike Surtees, and Alex Combie are all on 2½ points. Former Midlands GP winners Ali Jaunoobi and Don Mason are on 2 and Mitchell Burke is on 1½ points.
27 Jul. Don Mason (Warks), Ali Jaunoobi (GMC), and Mike Surtees (GMC) are possibly the strongest of eight Midland players in the championship. The youngest Midlander is Craig Whitfield (Staffs) and the Midland contingent is completed by Robert Shaw (Derbys), Jim Burnett (Notts), Alex Combie (Notts) and Mitchell Burke (GMC). See the most recent results on the British Chess Championship website.
Unconfirmed minutes of 2012 AGM published
26 Jul. Details of the rule changes approved for the Midland County Team competitions, changes to the prize fund for Midlands Grand Prix, a new Midlands correspondence competition by electronic transmission, and decision to seek to revive the Midlands Indivbidual Championship were some of the issues discussed. View full minutes.
Leicestershire stalwart passes away
26 Jul, Cyril Johnson reports. Ron King of Syston and Leicestershire U120 passed away this week at the age of 84.
Steve Crockett receives Midlands Rapid GP trophy
23 July. Steve Crockett received a trophy and his cash prize for the overwhelming win in the 2011-12 season Midlands Rapid Grand Prix at the Worcester Congress. Andrew Farthing, a Non-executive Director of the union presented the prize. Use the top menu buttons for GP and then the left buttons for the 2011-12 Midlands Rapid GP for details and picture.
Worcester Open congress results
22,23 July Worcs website reports. A big increase in participants allowed more prizes this year and raised over £900 for St Richard's Hospice, Worcester. The Open was won by Richard Jones (Nidum, Neath) with 5 straight wins. Jerry Hendy (Combined Services CA) won the Major, Stephen Katona (Hereford) the Intermediate and Stephen Crockett (Redditch) the Minor. For full results and pictures go to Worcester Congress website.
Greater Manchester captaincy changes
20 July Mick Norris reports. At the annual meeting of Manchester Chess Federation, Jon Lonsdale was promoted to captain the Open team next season and David Holt replaces Jon in the u160 team. Tim Hilton will help David in organising the u160 team and Jon will manage external contacts for th u160 team. The federation agreed that any league teams that have players who are not members of the ECF would be liable for the increased game fee.
Claudio Mangione wins Lincolnshire Championship
14, 15 July Kevin Mccarthy reports. In the closed Lincolnshire Championship tournament held at Atrium Lindum, Lincoln, Claudio Mangione scored five straight wins from his games to become champion. Samuel Milson was runner-up on 4 points. A field of 24 players competed.
Junior Midlanders' wins at Northern Gigafinal
8 Jul. Amy Milson (Lincs), Richard Weaving (Warks), and Brandon Clarke (Leics) were the oldest of a large number of Midlands winners at the Northern Gigafinal Delancey UK Chess Challenge held at Derby. For the complete list of Midlands winners use the Juniors button above and then go to Junior News.
Greater Manchester national under-160 Champions
7 Jul. The ECF website reports. Two Midlands teams competed in the ECF county finals held at Moat Community College, Leicester. Greater Manchester beat Yorkshire to become u160 champions, but Leicestershire went down to Hertfordshire in the Minor counties.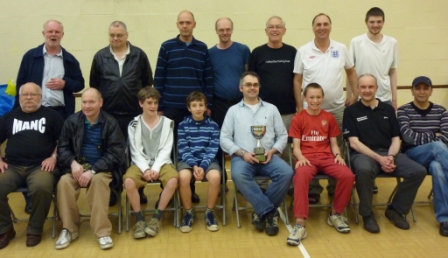 At the back – Dave Pardoe, Adam Tyton, Glenn Trueman, Dave Kierman, Phil Boyd, and (hopefully) next year's team captains Dave Holt and Tim Hilton. At the front – Graham Phythian, Alan Beresford, Jake Manton, Dan Abbas, Jon Lonsdale (captain, with trophy), Andy Horton, Mick Norris, Kamran Ahmadi Not on photo, Dave Newell had to be at a summer ball.
Manchester Grammar win National Schools Championship
6 Jul. The Yately Manor sponsored schools competition at Uppingham, Rutland, was won by Manchester GS on age handicap from Wellington College 2-4. On their way to the title, Manchester GS beat Bolton GS, James Gillespies HS, and Haberdasher's Aske's.
Midlands Juniors in ECF county u13 and u18 county matches
30 Jun. Greater Manchester, Lincolnshire, Northants and Warwickshire sent teams to this event at Eton College, Windsor, Berkshire, but honours were taken by Hertfordshire in the under-18s, Surrey in the under-13 open, and Norfolk in the under-13 minor team events.
Keith McLaughlin retains Midlands correspondence title
30 Jun Peter Sherlock reports. Keith McLaughlin (Leics) retained his title for the fifth year running with a clean sweep in the PC Gibbs tournament. Mick Tate (also Leics) was second and Peter Sherlock (Lincs) third.
Changes to Midlands team and individual tournaments next season
23 Jun. The annual meeting at Syston agreed higher prize fund for the Midlands GP and the grade-limited Rapid GP. Cyril Johnson (Events Director) proposed that a second grade-limited Midlands GP should be established. Rule changes were agreed for the county team tournaments and directors were asked to agree a guide for county team captains. It was agreed that the County Team Championship for open teams could be run as a double round. Cyril Johnson proposed a new individual Midland correspondence tournament using electronic transmission rather than postal communications and this was also approved. The only new officer to be appointed was John Grasham (Lincs) as secretary. Unconfirmed minutes of the 2012 annual meeting will be published shortly.
Lincolnshire junior champions
23 Jun Lincolnshire CA reports Verity Walton, Isabel Taylor, Minaahil Shazad, Lewis Amdrew, Rithik Gaikwad and Matthew Green were age-group winners at the Lincolnshire Championships held. at North Thoresby Primary School
Fenton, Stoke-on-Trent Club in National Minor Club Finals
21 Jun. Steve Emmerton reports. Fenton have reached the Final of the National Minor Club Championship. They meet Forest Of Dean from Gloucestershire in the Final on Sunday 8th July.
Agenda, reports and proposals for Annual Meeting
16 Jun. County delegates should now have received the agenda, reports, and details of proposals to be dicussed at the MCCU Annual General Meeting on 23 June. County team captains should advise county association representatives of their views.
Changes at Birmingham & District League
11 June - Dave Brelsforth is the new President. Tim Lane takes over the post of Hon. Assistant General Secretary from Graham Humpreys. Graham, who started in 1951, was thanked for all his work and remains a member of the Individual Tournament committee.
Leicestershire and Greater Manchester through to county finals
9 Jun. In the Minor Counties competition semi final, Leicestershire beat Essex to face Hertfordshire in the final. Meanwhile Greater Manchester u-160 beat Herts and play Yorks in the final. Losing Midlands teams in semi finals were: Nottinghamshire in the u160, Worcestershire in the u140, Warwickshire in the u120 and Nottinghamshire in the u100. Use the 'County matches' tab above and then click the links on the national page for match details.
Anand retains Chess World Championship, but Gelfand was a worthy challenger
30 May, Moscow. After drawing the standard play games 6 - 6, the title was decided by a blunder in the second rapidplay game. For full scores of games visit the FIDE website
Midlands teams middling in county team quarter finals
22 May. After the main weekend for quarter finals, six Midlands teams enter the semi-finals: Leicestershire in the Minor Counties, Nottinghamshire and Greater Manchester in the u-160, Worcestershire in the u140, Warwickshire in the u120, and Nottinghamshire in the u100.
David Rowe loses battle against cancer
15 May. Julie Johnson reports that David Rowe who until very recently was captain of Warks u100 team died on 9th May. David was a qualified arbiter and it is believed that he served on the BCF's Finance Committee. He was Record Secretary of Birmingham & District Chess league for many years, ensured Birmingham Chess Club's continued existence, and organised Warwickshire CA's congresses and Midlands Open Congresses in the 1990s for the MCCU in Birmingham. Read the obituary written by Dave Thomas for Birmingham & Distrtict Chess League and copied to this website with permission.
Midlands juniors in under-11 team championships
12 May. In the English Primary Schools team championships at Nottingham, the highest scoring Midlands team was from Manchester. Further details on the junior news page.
Opening of Gelfand-Anand World Championship Match today in Moscow
10 May. The opening ceremony is today and play will continue until the end of May unless the match is very one-sided. Information and results are on the match website and the Times of India usually carries full game score (sport>more sports>chess) very after the finish of each game. As part of the build up to the event the RT.com television broadcast an interview with 14th champion Vladimir Kramnik this morning.
Junior stars in Romania
7 May. In the World Schools Championship in Iasi Under-15 Open, Joseph Friar (Hagley, Worcs) was placed 27-31st on 4 points from 9 games. After an unrewarding start, he showed true grit to win two games in succession and finished mid-table. Jennifer Neil (Chorley, Gtr Manchester) in the Under-15 Girls tournament also finished mid-table in her tournament with 4 points and was placed 18-25th. Phoebe Price (Three Cs, Oldham, Gtr Manchester) scored 2½ points in the girls' under-17 tournament. The England coaches included Midlands players Loz Cooper (Staffs) and Jim Friar (Worcs).
Midlands Counties AGM
6 May. Julie Johnson CEO of the MCCU has notified county secretaries and MCCU delegates that the annual meeting will be on Saturday 23 June at Syston. If you want an issue discussed, please forward it to your county secretary and ask for it to be sent from your county to Julie by Friday 25 May.
Warwickshire u-120 team first Midlands semi-finalists
6 May. Warwickshire u120 are the first side to get to the county team semi-finals winning 6½-5½ against Norfolk.
Joseph Friar 5-8th in Under-15 Blitz in World Schools Championships
1 May. In Iasi, Romania, Worcs ace junior Joseph Friar was placed 5-8th with 4½ points.
Midlands Grand Prix
30 Apr. All the congresses have now been played and the final scores are in.
Nottingham Congress: Mark Hebden first
22 Apr. Neil Graham reports each section had an outright winner with 4½/5: Open, Mark Hebden (Leicester); Major Steve Hunter (Nottm Gambit); Intermediate, Mick Harper (Nottm Gambit); Minor, Paul Broderick (Priorslee, Telford) Jim Burnett (Doncaster/Mansfield) took the British Championship Qualifying place with 4/5 on tiebreak. With a field of over 160, entries were up on last year. For full details visit Notts CA website.
Pictures from Brendan O'Gorman.
See more at Brendan's Google+photos

Top left: The playing hall
Top centre: Open winner Mark Hebden
Top right: Chief Arbiter, Neil Graham
Left: Nottingham High School

Oldies win at Bloxwich
21 Apr. Ray Dolan reports Bloxwich Junior Chess Club generation Game. The Oldies swept to victory over the junior club by 13&frac12: - 1½. The event was overseen by Arbiter Matt Carr. The sole junior winner was Jay Sanga and Aaron Cowley drew his game. Rev Roger Williams presented certificates to players.
Mark Hebden wins Staffordshire Open, Mike Townsend Staffs Champion.
15 Apr. David Anderton writes: The Open was won by Grandmaster Mark Hebden with 4½/5 ahead of Ameet Ghasi (Birmingham), Oliver Jackson (Cheshire) and Mike Townsend (Wolverhampton) who tied for second place with 4 points. The Open included the Staffordshire Closed Championship for which 10 players were qualified and Mike Townsend (Wolverhampton) won this while the Staffordshire Under-21 title was retained by Craig Whitfield (Cheddleton & Leek) with 3 points. The Major was won by Wiott Ropp (Stratford, Warks) with 4½ and the Minor by David Hull (St Helens) also on 4½. A total of nearly ninety players competed at Bloxwich Leisure Centre, Walsall in this event controlled by David Thomas and Matthew Carr.
Midlands juniors selected to play in Romania
14 Apr. Phoebe Price (3Cs, Oldham, GMC), Jennifer Neil (Chorley, Bolton, GMC), and Joseph Friar (Hagley, Worcs), represent England in the World Schools Individual Chess Championship at Lasi, Romania 28 April to 6 May in the girls' under-17, girls' under15 and open under-15 tournaments. See their biographies on English Chess Parents' Guild web site.
Anthony Hynes leads Midlands Grand Prix
10 Apr. With just one event to go - Nottinghamshire's congress on 21-22 April - Anthony Hynes (Warks) leads with 7 points, but he could be overtaken by any one of 40 other players if he does not compete in the last event.Second placed is previous winner Mike Surtees (Bolton, GMC) and third is Hope Mkhumba (Chorlton, GMC).
Nigel Davies wins Bolton Easter Congress
8 Apr, Roderick Middleton reports. Nigel Davis (GM) ended in sole first place in the Open with 4½ from 5 games drawing with 14-year-old Joseph McPhillips (Bolton) who was second on 4 points. For one of Nigel's winning games see his blog, second item down. Mitchell Burke, Greater Manchester's Open team captain, was 4th and gained the British Championship place. In the Major, Richard Desmedt (Wombwell, Leeds) beat Peter Mulleady (Atherton, GMC) in the last round to win, scoring 4½ pts. Peter finished 2nd on 4pts. Alan Riddoch (Maidstone) scored 4½ pts to win the U135 Knights section from second placed Josh Pendlebury (Worsley, GMC).


| | | |
| --- | --- | --- |
| | | |

Ninety players competed in this congress held 6-8th April in the Ukrainian Social Club. The congress was ably controlled by Roderick Middleton, Julian Clissold and Harry Lamb and equipment was provided by Chess Direct. Full results and more pictures are on the Manchester Federation website and there is a video of the prize giving uploaded by Hope Mkhumba to YouTube.
Two share Bolton Busy Persons Prize
7 Apr. This annual 10 minute quickplay tournament was won by Craig Whitfield (Cheddleton & Leek, Staffs) and Ali Jaunoobi (Denton, Greater Manchester) with 7 points from 8 games. Sixty players competed.
Alan Walton wins New East Manchester Open Rapidplay
26 Mar, Mick Norris reports. Alan Walton (Three Cs, Oldham) was first in the Open with 5½ points. The u160 section prize was shared by Balvinder Grewal (Nottingham Univ), Jamie Horton (Three Cs) and Brendan brown (Clitheroe). The u120 section was headed by Yousef Bin-Suhayl (Wisbech). Grading prize-winners were: Nathan Taylor (Three Cs), Daniel Abbas (Three Cs) and Hope Mkhumba (Chorlton) for u180, Chris Hodgson (Worsley) and Phillip Cattermole (Macclesfield) for the u140, Lee Hindley (Eccles) for u100. The Junior prizes were won by Alexander Cartlidge (Cheddleton & Leek) and Stephen Chung (Skelmersdale). Over 120 players competed and the controllers were Fiona Green, Julian Clissold and Rod Middleton. Details and pictures from Manchester Federation website. The RGP leaderboard has been updated, but has not been checked for omissions.
Steve Crockett retains RGP lead, but Matthew Fergusson closes gap
26 Mar. All three leading RGP contenders played at the Birmingham League Rapidplay in Quinborne Birmingham. Steve (Redditch) had a poor day and second placed Matthew Fergusson (Hallfield Sch, Birmingham) narrowed the gap.
Birmingham League Rapidplay: GM Danny Gormally leads the field
25 Mar. In the Open Danny Gormally (Cheddleton) on 5 points led Ameet Ghasi (Birmingham), Ian Thompson (Crowthorne), Martin Brown (St Helens) & Tahir Vakhidov (Uzbekistan) all on 4½ in a field that included four GMs. The Major was won by Simon Smith (Warley) on 5½; the Intermediate by Neil Derrick (Cabot, Bristol) on 6; and the Minor by John Pakenham (Warley) and Shivashi (Solihull Checkmates) who shared the prize on 5 points. Just under 100 players enetered the four tournaments. Full results are posted to the English Chess Forum. The Midlands Rapid Grand Prix page has been updated to include these results. Use "Grand Prix" menu button above and then "Rapid Grand Prix".
Midlands county teams eligible for national stages
25 Mar. The last Midlands matches have been played. Midlands county teams eligible for the National stages are: Open - Staffordshire & Warwickshire; Minor - Leicestershire & Lincolnshire; u180 - Warwickshire & Nottinghamshire; u160 - Nottinghamshire & Greater Manchester; u-140 - Worcestershire, Leicestershire & Warwickshire; u120 - Staffordshire Terriers, Worcestershire & Warwickshire; u100 - Nottinghamshire & Warwickshire. Use the "County Matches" and "National Stages" menu buttons to see details.
Staffordshire Terriers snap up Midlands under-120 title
24 Mar. In the final day of the Midlands team championship season, the Terriers tore the heart out of Worcestershire's upper order to take the title in style. Use "County Matches" and then "u120 Champ" menu buttons.
Ameet Ghasi triumphs in British Blitz Championships
24 Mar. Ameet, the Midlands-based Warwickshire county board 1 player scored 9 points to take the title ahead of James Cobb (Bristol), Lawrence Cooper (Staffs), Mark Hebdon (Leics) and Tahir Vakhidov (Uzbekistan) on 8½ in a field of nearly 90 that included four GMs.
Notts-GMC u160 draw makes Notts Midlands champions.
24 Mar. Greater Manchester met Notts in the u160s at Newcastle-under-Lyme. The match was an 8-all draw, but this was sufficient to make Notts champions. The result of the u120 match to decide the fate of the u120 title is awaited (Sat 22:10)
Bushbury through to England club semi-finals
24 Mar. Julie Johnson reports: St Albans conceded their match against the Wolverhampton team who now face a match with Metropolitan from central London.
Nottinghamshire and Lincolnshire win
21 Mar. In the under-140 county team match, Notts beat Worcs and Shrops beat Staffs. In the under-120 match, Lincs beat Warks. Click "County Matches" above and follow the links for details.
Will busiest day for Midlands chess be 5th May?
14 Mar. Dates for the Midlands Megafinals for UK Chess Challenge have now been published and four megafinals take place on this day. There's likely to have been over 5,000 competitive games played by 6pm that day.
Bloxwich Junior Chess Club on the move
13 Mar. Bloxwich Junior Chess Club has moved to St. James Church, Old Lane, Bloxwich Walsall WS3 2DD. The club plans an all-play-all tournament for the St James' Trophy starting 17 Mar. and on Sat 21 April The Generation Game graded Tournament, against adults. If you know anyone who would like to take part, contact Ray Dolan tel 07980 101 744.
Leicestershire clinch minor counties title
10 Mar. Leicestershire just pipped Derbys and Worcs went down heavily to Lincolnshire in the last Midlands stage matches. Use the 'County Matches' menu button above and then the 'Minor' button on the left to see the full story.
Grand Prix latest
8 Mar. Martin Burrows (Wigston, Leics) joins Ian Kingston (W Nottingham) at the head of the table with two events to go.
Warks Congress
4 Mar. Ameet Ghasi (Birmingham), Tomasz Sygnowski (West Bromwich) and Richard Weaving (Solihull) shared 1st prize in the Open with 4 points from 5. Wiatt Ropp (Stratford) won the under-170 outright with 4½. There was a 5-way tie for first in the under-145: Tim Allen (Battersea), Ray Collett (Worcester), Clive Pemberton (Balsall Common), Rick Weston (Witney), and Andrew Wiggins (Redditch) all on 4 points. Stephen Crockett (Redditch) was undisputed first in the under-120 with 4½ points. Over 100 players turned out for the congress at Arden School & Language College, Solihull. Chief arbiter was David Thomas assisted by Alex Holowczak and Matt Carrr. For full results visit the Warks congress page.
Annual Meeting Worcestershire CA
21 May 2011: Bert Foord steps down from hon Treasurer's post, which he has held for 25 years and is replaced by Brian Turner. Peter Kitson President, Maurice Bissell hon Secretary, and Derek Digger Competitions Secretary continue. MCCU delegates Ray Collett and Andrew Farthing are joined by Alex Holowczak. Minor County Team Captaincy is taken over by Ray Collett while Giles Stanton and Richard Turner remain in charge of u140 and u120 teams respectively.
Bushbury out of National Club Championship
May. Bushbury, Wolverhampton, Staffs lost 1½ - 3½ to Swindon based Brown Jack in their quarter finals fixture.
Bolton Congress results: 14-year-old Joseph qualifies for British Championship
25 Apr: Don Mason (Warks Select) was first on 4½ pursued by Adam Ashon (3Cs, Oldham) on 4. Joseph McPhillips on 3½ (Bolton, Gtr Man) qualifies for British. Other winners were: Major (u170) Clive Davies (Rose Forgrove) 5 ponts; Knights (u135) Lawrence Harold (Eccles) 4½ points. In the Busy Person's 10-minute section Ali Jaunoobi (Denton, Gtr Man) was first with 7 from 8. Another successful congress for organisers Harry Lamb and Rod Middleton. For further details reported by Rod Middleton click here.
Eight players with chance to be Midlands Individual Champion
23 Apr. Mick Norris reports: "With 2 rounds to go at Bolton Easter, Adam Ashton and Don Mason lead on 3/3"
17 Apr. After the Nottingham Open, GM Mark Hebden leads the field. Only one event at Bolton now remains for pursuers Tomasz Syngowski, Martin Burrows, David Coates, Anthony Hynes, Ali Jaunoobi, Ryszard Maciol and Mike Surtees, to overtake Mark. Use the Grand Prix menu button above to get to the leader board.
Three Midlands counties through to the quarter finals of county team championships
16 Apr. Warks u180, Notts u160 and Greater Manchester u160 teams progress. Use County Match and then National menu button to see the scores and link to most of the full results.
ECF Council poll favours membership scheme
16 Apr. At the annual Finance Council meeting, a majority of attenders voted that the Board should prepare plans for a membership scheme. Representatives voted a down a Board proposal that fees should remain the same for the 2011-12 season. Instead they agreed a 7.5% increase in game fee and similar increases of membership fees to help reduce the large deficit caused by the Government's abrupt withdrawal of the £60k grant. A summary of the main decisions is on Andrew Farthing's Chief Exec's blog.
Mark Hebden wins Nottingham Open
10 Apr. The Leics GM won all 5 games in the Open Tournament. There was a four-way tie in the Major: Andrew Garside (West Notts), Tim Poole (Nott Univ), Anthony Sadler (Solihull) & Darren Lee (S Birmingham) all got 4 points. The Intermediate was won by John Huthwaite and the Minor by Tobias Stables (West Notts). Other Midlands prize winners were: Brandon Clarke (Leics), junior; Alex Combie (Newark), u185; Mark Carter (Spondon), u145; Neil Milson (Louth), Isaac Stables (West Notts), & Chris Sargent (Nott Univ), u120; Tobias Stables (West Notts), u110; Chris Fraser (West Bridgford), u90. The congress attracted nearly 150 players and was directed by Robert Richmond. Full results are on the Notts website.
Three Cs, Oldham win Bolton Jamboree
9 Apr. The 3Cs team scored 19/20 to take first prize. Bolton 3 were top in the u130 and Bolton Girls in the Junior sections.
Midland juniors shine in England Team under-11 trial
3 Apr. Aloysius Lip (Birmingham) led the field with 5 points. Other successful Midland juniors were David Abbas from Manchester and Ashwin Kalyana from Birmingham.
Harry Brooks dies
21 Mar. Mick Norris and ECF report the sad loss to chess of Harry Brooks, Great Lever, Gtr Manchester. See ECF website for more.
Midlands Junior League winners
21 Mar. Magdalen College School, Oxford won the Midlands Junior League team jamboree at Malvern College, Malvern.
Under-140 county Team places for national stages decided
20 Mar. Leaders, Worcestershire fell to Nottinghamshire. Staffs beat Warks and Derbys beat Shrops. Use the County matches menu button above for more.
UK Chess Challenge Megafinal dates announced
15 Mar. The UK Chess Challenge county stages are being held around Easter. Use the congress menu button above to see dates and contact details for Midlands organisers of the world's largest chess tournament.
Leics beat Derbys in Minor Counties to qualify
14 Mar. Leics had a clear 10-6 victory at Croft. Use the menu ' County Matches' and 'Minor' to view details.
Midlands home to oldest chess club outside London?
14 Mar. Intrepid art-sleuths Martin Smith and Richard Billett of Streatham & Brixton Chess Club paid a field visit to Hereford to unearth more of the history of an oil painting "Gentlman Players of Hereford Chess Club". Visit their blog to read more.
North Midlanders win in New East Manchester Rapidplay
6 Mar. Held in the magnificent City of Manchester Stadium, this event was organised by Sport4life for Eagle Chess Club in association with Manchester Chess Federation. Sponsors were New East Manchester Ltd, Street Games and Equity Solutions. Alan Walton and Alex Longson (both 3Cs Oldham) shared first place with 5 from 6 in the Open. Farshap Ai (Phoenix, Sheffield) was first in the u160 tournament, and Joshua Pendlebury (Worsley, GMC) and Dean Madden (Spondon, Derbys) shared first in the u120. The entry of nearly 90 players was controlled by Fiona Green, Julian Clissold, and Rod Middleton. Full results are expected on Tuesday.
Warwickshire win first contested Midlands Under-100 title
5 Mar. Warwickshire ran out winners 7 - 4.
Nottinghamshire win under-180 Championship
27 Feb. With a clear 10½ - 5½ win, Notts lift the under-180 title.
Worcestershire look set for under-140 team title
26 Feb. In the match between the two leaders of the under-140 championship, Worcestershire ran out winners 9-7.
John Nunn wins solvers' tourney
26 Feb. John Nunn was first at the Winton Capital British Chess Solving Competition tournament held at Oakham School, Rutland.
Colin McNab British Chess Solving Champion
18 Feb. The final solving championship organised by the British Chess Problem Society and sponsored by Winton Capital Management was won by guest Poitre Murdzia and Colin, a Scots GM, won his first British Solving Championship ahead of Mestel and Nunn. For further details visit the British Chess Problem Society.
Greater Manchester diminished again
18 Feb 2012. Mick Norris reports on the ECF Forum that Derbys beat them in the Minor Counties fixture at Chorlton.
Worcestershire under-120 triumph again
12 Feb 2012. Four straight wins book a place for Worcs in the national stages. The crunch match, however, to decide the Midlands title will be on 24 March when they meet Staffs Terriers. Nearest rivals Warks drew against the Staffs Bulldogs while Staffs Terriers beat Lincs to challenge Worcs. Use the county matches menu button and then the u120 menu button to see details of the weekend u120 results.
Steve Crockett likely winner of Midlands u-150 Rapid Grand Prix
5 Feb 2012. Redditch player Steve Crockett has particpated and scored well in five events and is now more than 5 points clear of his nearest rival Matthew Fergusson (Hallfield Sch, Birmingham). Use the Grand Prix menu button above and then the RGP Leaderboard button for more details.
Stockport Rapidplay attracts 140 players
6 Feb 2012 Peter Taylor reports. Allan Beardsworth (Gtr Manchester) won the Open on 5½/6. Martin Burns (Stockport) and Brendan Brown (Clitheroe) shared first place in the Major on 5½. Winners of the other tournaments on 5½ were: Intermediate, A Horton (3Cs, Oldham, GMC); Minor, Karl Moorcroft (3Cs, Oldham, GMC). A full list of winners is on the Stockport & District League site.
Staffordshire retain Midland Counties Team Championship
28 Jan 2012. Staffs beat Warks 9 - 7 in a match with a high proportion of draws. Use the "County Matches" menu button for more details.
Lincolnshire go top of the Minor County table
28 Jan. Lincs thrashed Shropshire and Leics beat Worcs. Use the "County Matches" menu button for more details.
Bushbury (Staffs) through to National Club Major quarter finals
28 Jan. Julie Johnson reports that Bushbury beat Gloucester 3 - 2. In the quarter finals, Bushbury play St Albans.
Alan Smith from Stockport wins Nottingham Rapidplay
23 Jan. Alan Smith (Stockport) won the Open with 5 from 6. Three players shared the Major: Mark Kenyon (West Nottingham), Andrew Toothill (Ashfield), and Michael Connor (Great Lever) all on 5/6. Janos Wagenbach (Mansfield) 5/ 6 won the Intermediate and Graham Gibson (Gambit, Nottingham) the Minor. The event was organised by Robert Richmond, and attracted 99 players. For full results, see Notts website.
Warks are u180 Midlands champions
21 Jan. Warwickshire neatly reversed last year's result at Tyseley, Birmingham to take the under-180 title. Use County match menu button above and then the left u180 button to see details.
Walsall Kipping club mourns Norman Young
16 Jan 2012. The death of Norman Young (1928-2012) has been announced. Norman was a former president of Staffordshire Chess Association and was active over the board until a few weeks before his death. "He will be fondly remembered and sorely missed by all of his friends in the Chess World" writes current Staffs President David Anderton in a brief obituary.
Notts team are first Midland Counties Champions this season
14 Jan. A young Notts side comfortably beat Warks, last season's winners, at Nottingham. Use the 'County Matches' menu button for more details.
Shropshire Congress attracts over a hundred players
8 Jan 2012. This new event saw Tristan Cox (Sutton Coldfield, Warks) placed first in the Open. Wiatt Ropp (Stratford, Warks) won the Major and David Buckley (Bushbury, Wolverhampton, Staffs) the Minor tournament. For further results and visit the Shrops website. Francis Best and Steve Rooney were key congress organisers.
Worcs retain lead in u140 county team championship
11 Dec 2011. Results of all three matches are posted. Use the top "County match" menu button above and then the "u140 Championship" button for details.
Steve Crockett leads Midlands Rapidplay GP
5 Dec. After four events, Steve (Redditch, Worcs) leads this tournament by a healthy margin having entered all Midlands Rapidplay events so far. He is pursued by two juniors. Use the "Grand Prix" menu button above to get link to standings in the Midlands Rapid Grand Prix.
Don Mason wins Bury Rapidplay
4 Dec reported by Rod Middleton and Mick Norris. Don Mason (Shirley & Wythall, Birmingham) was first in the Open with 5/6. The Major was shared by Martin Burns (Stockport, GMC) and Brendan Kane (Aigburth, Liverpool) also with 5/6. Tim Hilton (3Cs, Oldham, GMC) was sole first with 5½/6 in the Minor. Entries included a phalanx of juniors from 3C's (Oldham), and a special Junior (u14) Prize was won by Becky Kerton with an impressive 4½ points in the Minor, leaving most of the adults in her wake! Nearly 100 players participated. Controllers Rod Middleton, Julian Clissold and Anthony Lee ran the show cheerfully and efficiently, and the Sports Club staff provided a warm welcome, and refreshments.
Alex Holowczak appointed national controller County Championships
4 Dec. Alex from Oldbury, Worcs has taken on this role. Julie Johnson remains the MCCU representative. The 2012 dates for the preliminary, quarter-finals, semi-finals and finals are published on the ECF website.
Northampton Girls second in 4NCL Junior Division 3
26, 27 Nov. Northamptonshire Girls scored 8/14 coming second to Yateley Manor A. In Division 2, midland teams trailed teams from the south.
Midlanders at the British Rapidplay, Leeds
19, 20 Nov. Ali Jaunooby (3Cs, Oldham, GMC) was highest placed Midlander at the British Rapidplay Championships at Leeds on 7 from 11 games. First was GM Gawain Jones 10½/11. In the Under-16 Rapidplay, Ashwin Kalyana (Solihull Checkmates, Warks) was first on 3½/5. In the Intermediate, Phil Talbot (Wigan, Greater Manchester) was first on 8½/11. Harry Croasdale (Nottingham) was first on 4/5 in the one-day under-16 event.
Miroslav Gruca wins Bolton Rapidplay
13 Nov from Rod Middleton, organiser. Miroslav (Widnes) led from the start and half a point clear after four rounds. His final round victory ensured first place by a clear point. Arthur Mehmood (Newport, Shrops) dominated the Major with 6 straight wins. The event attracted nearly ninety players and held at Bolton Ukrainian Club. Results of MCCU players graded under-150 now added to Rapid Grand Prix. Use this link for more details.
Worcestershire and Staffs Terriers share lead in under-120 championship
12 Nov. For more details use "county matches" menu button above.
Greater Manchester Juniors are Champs
6 Nov. Greater Manchester were first with 17½/24 in the under-16 competition. The winning Manchester side comprised: Jamie Horton, Daniel Lea, Nathan taylor, Andrew Horton, Jacob Manton, Tim Chays, Jennifer Neil, Phoebe Price, Jack Virgin, and Jason Lau and was managed by Phil Adams. In the same competition Staffordshire were 7th on 8½. In the under-12 event, Greater Manchester were 3rd, Warwickshire 4th, and Staffordshire 6th equal. The event was organised by NYCA (National Youth Chess Association) at Abraham Derby Academy, Madeley, Shropshire.
Lincolnshire lead in Minor Counties
5 Nov. Worcs and Derbys fought a nail-biting draw while Shrops beat Leics in spite of the latter fielding a grand master. Use the "county matches" menu button above for match details.
Leicestershire under-160 team withdrawal
28 Oct. It is reported that Leicestershire team are withdrawing from the under-160 competition
Pemberton leads in Midlands Rapid Grand Prix after Birmingham Rapidplay
24 Oct. There is a single leader on 7½ points after the second round at Birmingham: Clive Pemberton (S Birmingham) on 7½. Only Adrian Walker (Leamington, Warks) on 7 from the first round leaders is in the top three. Also in the top 3 is talented junior Aloysius Lip (South Birmingham) on 7. Full results and winners' pictures are on the Birmingham and District website.
Warks webmaster runs Half Marathon

24 Oct. Colin Reed raised over £600 for Alzheimer Society by completing the Great Birmingham Run in 2hours 45 minutes and 42 seconds.
Notts first to score in Counties u-160 Championship
23 Oct. Notts beat Staffs. use the "County Matches" top menu button and follow links for more.
Short 25, Denton Chess Club 0
22 Oct. GM Nigel Short beat all 25 opponents at a simul. Steven Lee (Aigburth, Liverpool) was the last man standing, but eventually he fell. The event was sponsored by Kerry Logistics and SE Lanc Chess League. See pictures at Denton Chess Club.
Shock loss for Greater Manchester in the Minor Counties
16 Oct. After the first round of the Minor counties Championship, Leicestershire and Worcestershire were surprise winners. Lincolnshire, as expected, beat Derbyshire. use the "County Matches" menu button at the top to see more.
First PC Gibbs correspondence results
12 Oct. At an early stage in the 2011-12 Midlands Correspondence championships, three players share the lead. Use the "Correspondence" button on the top menu bar to see details.
Ian Kingston overtakes GM to lead Midlands GP
11 Oct. With the full results of the Leicester HE Atkins Congress now in, Ian Kingston from Nottingham leads by half a point overtaking GM Hebden, and early leaders Besedin and Sygnowski. For a report and pictures visit the Leicester Congress news page.
Three lead Midlands Rapid Grand Prix after first round
10 Oct. There are three joint leaders on 5 points after the first round at Leamington (subject to Controller's scrutiny of eligibility): Karl Forman (Coventry Herbert); Brank Pribranich (Northampton); and Adrian Walker (Leamington, Warks). A total of 40 players have opened their accounts in the RGP and there is all to play for because last year's winner is graded above 150 for this season. For full results at Leamington, visit the organiser's website.
John Redmond wins Leek congress held 9-11 September
11 Oct. Results have now been published. John Redmond (Atticus) won the FIDE rated tournament with 4½/5. In the main section the overall wnnler was Philip Hallen (Bath University) also on 4½ points. Full results are published on the Tournament Director site for the FIDE rated and Main tournaments. Over 100 competitors took part in this annual congress organised by Roger Edwards.
Home victories for under-140 teams in first Midlands county matches
8 Oct. Visit "County Matches" and under-140 competition for full details.
Hebden wins HE Atkins Memorial Tournament at Leicester
2 Oct. GM Mark Hebden (Liecester) claimed first prize in the Open with 4½/5 to join Pavel Besedin and Tomasz Syngowski near the front of the Midlands GP. Daniel Broughton (West Nottingham) won the Major, and Louise Coxon (Solihull) shared the Minor with Hart (Swallow Inn). The Leicestershire annual tournament attracted over 100 players and was ably controlled by Andrew Morley and his team. Equipment and bookstall was provided by Chess Direct. A personal report with pictures is on a news page.
Pavel Besedin and
Tomasz Sygnowski

are Midlands GP leaders

19 Sep. After two rounds, Pavel and Tomasz stay in the lead.
Manchester Autumn Congress Results
19 Sep. John Pitcher (S Birmingham) and Steven Jones (Padgate) shared first in the open with 4/5. In the Major, Simon Crowley (Stockport) and Robert Clegg (Huddersfield) were first on 4½/5 and in sole first position in the Knights Tournament, was Catherine Smith with 4½/5. Over 100 players competed. Detailed results are on the Manchester Chess Federation site.
Leamington Rapidplay results
11 Sep. The Premier (under-220) was won by Richard Weaving (Solihull Checkmates) with 5/6. The Major (under-175) was a triumph for Henrik Stepanyan (Sutton Coldfield), the only player at the congress to score 6/6. Four players shared honours in the Intermediate (under-150): Karl Forman (Coventry Herbert), Ben Graff (Leamington), Branko Pribanich (Northampton), and Adrian Walker (Leamington) with 5/6. Junior Joseph Friar (Hagley, Worcs) won the Minor (under-120) with 5½/6. Over 120 players competed. Full results are available from the Leamington & District Chess League website.
Midlands Grand Prix schedule
8 Sep. Six standard play events and seven rapidplay events are in the Grand Prix this year. Use the "Grand Prix" top menu button to see more. I hope to put up Manchecter Autumn results as soon as I receive them from the organisers.
Midlands county team championships 2011-12: Minor and under-140 Championships hotly contested
5 Sep. Entries are in and the fixtures list (to see the dates use the "County Matches" menu button above) has been distributed to county contacts. On 23 Aug, Greater Manchester confirmed team entries for Open Division 2 (Minor counties) and the u160 championships. 29 Aug, Shropshire confirm entries for Minor and u140 championships. On 30 Aug Worcs confirms entries for the Minor, u140 and u120 competitions.