Published 11 November 2017
News in the 2016-7 season
Joseph Friar winner at Bewdley
28 Aug. At an informal charity rapidplay tournament at Bewdley, Joseph Friar (Kidderminster) was first on 6 points.
Manchester Summer Congress
21 Aug, Rod Middleton Reports. Brandon Clarke (Littlethorpe) and Adam Ashton (3Cs, Oldham) tied for first on 4½ points. Ray Sayers (Bucks) was winner on 4½ in the Major and Julian Hawthorne (Kidsgrove) on 5 points in the Knights tournament. Over 120 players competed in this event at Manchester University. Harry Lamb was one of the key organisers of this highly successful event.
MCCU@Walsall Congress
14 Aug. GM Mark Hebden won the open with 5 points. Robert Clegg and Richard Desmedt, both Yorkshire shared first in the Major and two Midlanders were first and second in the Intermediate: Athar Ansari (Newport, Shrops) 5 points and Karimi Qais (Lincoln) 4 points. Two Redditch, Worcs, players headed the Minor tournament with David Smith (Redditch) on first with 4½ points and Michele Clack second on 4. For pictures and more ...
MCCU correspondence team plays Natcor
27 Jul, Ray Dolan reports. Fourteen players will represent the MCCU in the match that is scheduled to start in September.
CEO doubles up as Staffs secretary
18 Jul, Steve Emmerton reports. Ray Dolan was elected honorary secretary for Staffs CA at their AGM and Andrew Davies steps down to concentrate on his MCCU youth role.
MCCU retiral gift to PeterGibbs
13 Jul. Eunice and I on your behalf visited Peter and Celia Gibbs to present him with gift and thank-you card signed by members for 9 years as President of MCCU. Thank you for everything you done for Chess.
| | |
| --- | --- |
| Eunice and Ray Dolan present Peter Gibbs (centre) with thank-you card and gift | Peter Gibbs, on the right playing black, faces Spassky in the 1960 UK-USSR students' team championship match at Leningrad (now St Petersburg) |
Ashton Rapidplay results
9 Jul. The u150 section was won by Paul Woodfinden (Northwich) and u130 grading prize by Phil Colville (Macclesfield, GMC); the u115 section by Michael Fisher (Oldham, GMC) with the u95 grading prize going to local player Denzel Supatan (Ashton, GMC); the u80 section was won by Sajjad Dehghan-Afifi (Sale, GMC). The Tameside jun ior prize went to Ross Evans (Ashton). After the congress, director David Hardy thanked CSC and Ashton Town Council for support and declared: "The success this year means it will become a firm fixture in the chess calendar". See ECF website for pics and full results.
Two Midlands teams win national counties finals
1 Jul, Nigel Birtwistle reports. Lincolnshire beat Suffolk to win the Minor Counties final. In the all-Midlands under-100, Leicestershire had a clear win over Warwickshire. Nottinghamshire under-140s went down to Lancashire.
MCCU annual meeting: new president and correspondence team
17 Jun. John Pakenham (Warley Quinborne & Warks) was elected. Other new post-holders are: Meetings Chairman - Paul Sharratt (Stourbridge & Worcs), Safeguarding Officer - Andrew Davies (Brewood, & Staffs). The MCCU has challenged Natcor, National Correspondence Chess Club, to a 12-board friendly match with 4 boards each webserver, e-mail and traditional postal. Please contact Ray Dolan if you would like to represent the Midlands.
Four Midlands teams in national county finals
11 Jun. Lincs get throught to the finals by the skin of their teeth in the Minor Counties competition, Warks beat Notts and Leics beat Surrey in the under-100s to set up an all Midlands final. In the under-140 competiton Notts beat Yorks and Worcs drew with Lancs, but lost out on board count. Other Midlands teams lost: Leics to Suffolk in the minor counties, Notts to Yorks in the u160, and Worcs to Middlesex in the u120.
MCCU president retires
2 Jun, Ray Dolan reports. Our loyal President Mr Peter Gibbs contacted me saying he would not be standing for re-election as President at this year's AGM. He has been our President for the past 9 years since 2008. On behalf of the MCCU I thank him for all he has done for us. I also thank him for the wonderful job he did writing the chess column in the Birmingham Post for many, many years plus everything he has done for chess. He will be an hard act to follow.
Nine Midlands county teams go to national semi finals
13 and 20 May. In the Minor counties competition, Lincolnshire beat Essex and Leicestershire had a stonking victory against Cornwall. Worcestershire went down to Suffolk. In the under-160s, Nottinghamshire beat Essex , but Warwickshire lost to Middlesex. Both Midlands teams - Nottinghamshire and Worcestershire - got through to the semi-finals in the u140 competition. In the under-120s, Worcestershire beat Lancashire on board count. Three of the four semi-finalists on the under-100 competition are filled by Midlands teams: Leicestershire, who beat Lancashire, Warwickshire beat Kent and Notts had a bye.
ECF finance council meeting raises subscriptions
22 Apr, Andrew Leadbetter reports. Most members will have to pay more next season, but junior bronze membership goes down slightly. Although the Game Fee was abolished, the pay-to-play (membership upgrade) fee has increased slightly. Council members voted to increase representation of direct members, but the vote did not reach the 75% threshhold for action.
MCCU CEO and Director honoured
21 Apr. Walsall's Mayor honoured Eunice & Ray Dolan for their contributions to Bloxwich and its community at the annual Walsall Civic Awards awards ceremony.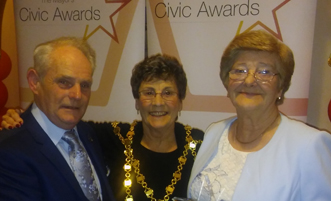 Left to right: Ray Dolan (MCCU CEO), Kath Phillips (Walsall Mayor)
and Eunice Dolan (MCCU director)
Bolton Easter congress sees home winner
18 Apr, Mick Norris reports. Joseph McPhillips (Bolton, GMC) was first in the Open with 4½/5 points. Martin Burns (Stockport, GMC), also on 4½ was first in the Major and Michael Fisher (Oldham) won the Knights tournament. Andrew Horton (3Cs, Oldham, GMC) won the Busy Persons Blitz with 7½/8 points. The event was organised by Rod Middleton and over 130 players competed. Further details on the ECForum.
Keith Richardson, correspondence GM dies
10 Apr, Ray Dolan reports. Keith was born in Nottingham, but spent much of his adult career working at Barclays Bank in London. He became a correspondence chess GM in 1975 and represented England in correspondence chess from the 1960s to the 1980s. The ECForum has a tribute from Andy Walker, Nottinghamshire Chess Association President, and two of Keith's games.
National club championships
2 Apr, ECF website reports. Newcastle-under-Lyme (Staffs) won the Intermediate Team Championship and Solihull (Warks) the Intermediate Plate. The Major team championship was won by Wanstead & Woodford (London). For full results see ECF website.
Junior upset at Nottingham Congress
2 Apr, David Levens and Robert Richmond report. The Open Tournament was won by 13-year-old Adi Munchi with 4½ points ahead of GM Arkell. Also on 4½ points, Stephen Hunter (Nottingham Gambit), won the Major; Parin Suchak (Syston, Leics) the Intermediate; and Leslie Fancourt (Derby) the Minor tournament. Over 150 competitors played in this event.
Draws published for county quarter finals
30 Mar. See county match national page. Warwickshire have three fixtures against Middlesex!
GM Hebden triumph at Birmingham Rapidplay
26 Mar. Mark Hebden (Leics) made a clean sweep with 7 to win the Open tournament outright. Simon Smith (Warley Quinborne, Birmingham) and Andrew Price (Leamington, Warks) shared the Major with 5½ and Windsor Peck (Halesowen, Worcs) and Michael Fisher (Oldham, GMC) were joint first in the Minor.
Hereford congress winners
12 Mar. Raymond Ilett (Peterborough) was first in the u195 tournament, Roy Watson (Kenilworth, Warks) first in the Major; and Dennis Bonner (Shrewsbury Telepost) shared first in the minor with four other players. The event was organised by Tony Corfe for Castle Chess and full results are here.
Final Midlands County teams title decided
11 Mar. In the u180 fixture, history repeated itself for the two teams to draw and share the title with Warks claiming the first MCCU nomination place for the national stage on board count. In the other match on the last day of the MCCU stages, Worcs u120 beat Staffs, to be entitled to MCCU's third nominated place.
Midlanders shine at Doncaster
19 Feb, Nick Arkell & Neil Graham report. Three MCCU players, Nick and Keith Arkell (both Halesowen, Worcs) and Mike Surtees (Great Lever, GMC), shared the first prize with Laurence Webb at the Doncaster Open. Martin Burns (Stockport, GMC) and Karl Popper (Syston, Leics) tied for first place in the Major section and Graham Neil (Nottingham Nomads) tied for first place in the Minor.
Midlands team championships shared
18 Feb. In the Minor Counties' team championship, Notts beat Worcs. Worcs and Lincs, coming from behind, share the Midlands championship title and Worcs will be MCCU's first nomination for the national stages. Also in the Minor, Lincs beat Leics. Staffs beat Lincs and Warks beat Worcs in the u120: Notts beat Leics to take the u100 team championship. Your webmaster avoided being run over by tuk-tuks on holiday and apologises for the late publication of the 4 Feb match result below.
4 Feb. Midlands u160 championship was shared between Warwickshire and Nottinghamshire and on board count Warwickshire will be MCCU's first nomination for the national stages.
Mancunians beat Cumbria
11 Feb reported by Mick Norris. In a friendly u160 match played at Lancaster, Greater Manchester beat Cumbria 7½ - 4½. For detailed score visit Cumbria CA website.
Nottingham Rapidplay
5 Feb, NCA website reports. GM Mark Hebden (Leics) won his third successive title at this event with a clean sweep 6/6. The Major was won by Daniel Broughton (Nottingham), the Intermediate by Geoff Brown (Sheffield) and Armaan Gogia (W Nottingham) 5/6, and junior player Finlay Bowcott-Terry (Halesowen, Worcs) won the Minor with 5½/6.
Stockport Rapidplay results
29 Jan, Rod Middleton reports. Joseph McPhillips (Bolton, Gtr Manchester) won the Open tournament outright with 5½ points from 6 games. Nicholas Barnaby (Bolton, Gtr Manchester) won the Major also with 5½/6. Robert McLean (3Cs Oldham, Gtr Manchester), Graham Ashcroft (Preston, Lancs) and Ian Stone Maryport (Cumbria) shared first place in the Intermediate with 5 points and Anthony Hunt (Sale, Ches) won the Minor outright on 5½ points. Over 130 player competed.
Latest county team result
28 Jan. Worcs u140 had a narrow victory over Derbys.
County team result gives Nottinghamshire first 2017 Midlands team title
21 Jan. Nottinghamshire take u120 championship with a 100% record and a win in their final match of the season against Worcestershire. In the Midlands Championship, Leics beat Notts and Lincs beat Warks. In the second u120 fixture, Warks beat Staffs.
ECF seeks views on member representation and BCF Champ entry
16 & 13 Jan. The ECF Board of Management has invited members to provide comment on ways to improve the representation of individual members in decisions of the federation. Three models have been put out for consultation. There are also consultations on the qualifications for entry to the 2018 BCF Championships. For details please visit: Voting reform and Champ entry. Responses to the ECF are requested by 12 March 2017.
First county match results in 2017
14 Jan. Leicestershire thrashed Staffs in the u100 match.
7 Jan. In the under-140 competition, Derbyshire drew with Nottinghamshire.
Geoff Harris 1930-2016.
7 Jan, Eric Horwill and Brian Dudley report. Geoff Harris, a lifetime member of Stourbridge, was remembered at a service at St Peter's Church, Pedmore. At his peak, Geoff was a 200+ player, twice champion of Worcestershire in 1961-2 and 1962-3. He represented England and of course Worcestershire in team play. His best performance in the British Championship was in 1954 when he was 6th. Playing on board 1 he helped Stourbridge to win two Birmingham & District and several Worcestershire team titles. He is remembered as a "genuine gentleman of the chess board" and will be much missed by all. See full tribute on the ECF website.
Hastings International Chess Congress
6 Jan. GM Deep Sengupta (IND) won the Masters with 7/9. Midlands players in the Masters did not fulfil their potential: GM Mark Hebden (Leics) 5½; GM Keith Arkell (Worcs) 4½; IM Robert Bellin (Staffs) 5 and Martin Burrows (Leics) 4. In other tournaments, Keith Arkell won the Blitz with 7½/9. Mark Whitehead (Rochdale) won the New Year afternoon A tournament.
Counties' Open-Minor decisions
29 Dec, the controller reports. The top three counties in the MCCU Minor competition will be offered nominations for the Minor Counties national stages and Warks and Notts will play for the Midlands u180 title and be offered nomination to the national stage of that competition.
London Chess Classic
16 Dec. Wesley So (USA) won the super GM tournament with 6/9. In the FIDE Open, GM Mark Hebden (Leics) scored 6½/9 and GM Keith Arkell (Worcs) 5½.
Steve Foster 1953-2016
11 Dec, Nottingham Gambit website reports. Steve Foster (Nottingham Central) died peacefully at home after a short illness. Steve played for Nottinghamshire's first team and captained teams for Nottingham Central club. Before retirement, he played for Worcestershire and captained St John's Worcester teams. Our condolences to his family and team colleagues. Nottingham Gambit and Ashfield websites give more information.
County results
10 Dec. In the u160, Notts beat Gtr Manchester. In the u120 matches, Worcs beat Lincs and Notts beat Warks.
3 Dec. After being 7-1 up at the halfway stage, Worcs narrowly beat Lincs in the open and minor section. Meanwhile Leics thrashed warks in the minor/open. Notts u140 and u100 teams at home at Bramcote beat Lincs u140 and a sadly depleted Staffs u100 team.
County match u140 result
19 Nov. Lincs u140 beat Derbys u140 in their first match to catch Worcs in this competition.
Bolton Rapidplay results
12 Nov, Rod Middleton reports. Paul Macklin (Chorlton, Gtr Manchester) lead from the start to win the Open on 5 points from 6 games. Four shared first place on 4½ points in the Major: John Altham (Bury, Gtr Manchester); Martin Burns (Stockport, Gtr Manchester); Stephen Loyd (Chester); and, Aram Tev-Gevorkian (Yorks). The Knights tournament was won by Raven Morrello (Chorlton, Gtr Manchester) and Steve McCall (East Cheshire). Over seventy players competed.
County match national stages rule changes
13 Nov, Peter Sherlock reports. Team captains proceeding into the national stages should consult the ECF national rules. several changes come into effect for the 2017 national stage competitions.
First u140 and u100 match results
12 Nov. In the opening matches for their tournaments, Worcs u140 beat Notts and in the u100, Notts crushed Warks.
Warks set the pace in u160 tournament
5 Nov. In the first match of the u160 team competition Warks beat Greater Manchester.
New website for Cannock & District League
1 Nov, Ray Dolan reports. Visit the new website.
County team champions humbled
29 Oct. In the Midlands Team Championship Warks beat Notts and Worcs edged it against Leics. In the u120 competition, Notts beat Staffs and Lincs beat Warks.
First u120 county result
15 Oct. Notts have a convincing win against Lincs in their opening match.
ECF Book of the Year
10 Oct. Chess for Life: Understanding how chess skills develop and change with the passage of time by Matthew Sadler and Natasha Regan. Available in paper, e-book or Kindle.
First county match results
8 Oct. In the Minor and Midlands Championship, Lincs beat Notts by a wide margin and Worcs beat local foes Warks.
ECF annual meeting and Midlands candidates
21 Sep, ECF website. The agenda, most papers and candidates' election statements for the 15 October annual general meeting have been published on the website. Alex Holowczak (Warks & Worcs), Traci Whitfield (Staffs), Julian Clissold (GMC) and David Thomas (Warks) are standing for re-election to the directorships of Home Chess, Junior Chess, Non-executive Chairman and Membership respectively. They are joined by Stephen Woodhouse (Worcs) who is standing for election as one of the Non-executive directors. ECF Directorships are volunteer posts.
Staffs withdraw from u140 team tournament
21 Sep, Peter Sherlock reports. Staffordshire have reluctantly concluded they have insufficient players to field a u140 team this season.
Lee Davis makes clean sweep in Hereford
18 Sep, Alan Leary reports. Lee Davis, recent newcomer to Hereford won the county championship, and two other tournaments at Hereford. He also won the Bennett Cup prize for the best individual player in Worcester & District Chess league.
Andrew Ward heads up Warks CA
3 Sep, Alex Holowczak reports. Alex has stepped down from the Warwickshire CA secretaryship and Andrew is his successor.
Midlands Tradewise GP winners
1 Sep, ECF reports. Mark Hebden (Leics) won the +180 Tradewise GP fighting off a challenge from Keith Arkell (Worcs) who was runner-up. Chris Fraser (West Bridgford) won the 120-139 section. Midland players also did well in the Most improved GP: Marco Ho (S Birmingham) won the u180 section, Athar Anseri (Newport Shrops) the u140 section and Jacob Boswell (Cheddleton & Leek) the junior over 140 compoetition.
County team entries for 2016-7
31 Aug, Peter Sherlock reports. Provisonal fixture dates will be issued in the next week or so. Warks have entered teams for the championship, u180, u160, u120, and u100 tournaments.
30 Aug, Peter Sherlock reports. Staffs have entered u140, u120 and u100. Derebys have entered the u140. Warwickshire have not yet entered.
28 Aug, Peter Sherlock reports. Four teams have entered the 2016-7 Union's County Team championship: Leics, Lincs, Notts, Worcs. In the graded tournaments, Gtr Manchester and Notts have entered the u160; Lincs, Notts, and Worcs the u140; Lincs, Notts, & Worcs, the u120; and Leics and Notts the u100 turnaments. The u180 competition entries will be sought in January.