News from 2013-4 season
Most recent items at top
Junior Chess Champ wins TV genius show
11 Aug, ECF website reports. Sharon Daniel (Bolton School, GMC) won the Channel 4 Child Genius show.
Alex Holowczak apponted Arbiter for South Africa congress
8 Aug, ECF website reports. Alex (Warks) joins three other Brits to help controlling the World Youth Championships to be held in Durban at the end of September.
MCCU county team tournament rules amended
5 Aug, John Grasham reports. The unconfirmed minutes of the annual meeting are published. Delegates agreed an amendment to the county team tournament rules and require team captains to remind players to turne mobiles off or to silent in playing halls. It was also agreed to hold an MCCU congress on 7 & 8 March 2015. MCCU directors and delegates were unchanged from 2013.
Ann-Marie James plays for England at Tromsø
2 Aug, ECF website report. Ann-Marie is a member of the 4NCL Warwick select team and woman FIDE master and the president of South Birmingham Chess Club.
Even more Midland successes at Aberystwyth
2 Aug, Mick Norris and ECF website report. Daniel Fernandez (Marple, GMC) is British under-21 champion. Mike Surtees (Great Lever, GMC) was sole first in the British Seniors with 6 points from 7 games. In the same tournament Alan Crombleholm (Bushbury, Wolverhampton) shared 3rd place with 5 points. Ali Jaunooby was first with 9 points in the Major Open. Carl Gartside (Buxton, Derbys) shared first prize in the Soames (u150) tournament and Steve Crockett (Redditch) won the Yates (u125) tournament with 4½ points.
More Midland success at Aberystwyth
26 Jul. Ali Jaunooby (Denton, GMC) shared second place in the first week morning tournament with 4 points from 5 games.
Cannock Club celebrate season triumphs
22 Jul, Ray Dolan reports. Elton Whitehouse, Manager Bridgetown Social WMC, presented Cannock League's Chase Trophy and the Div 3 trophy at a party.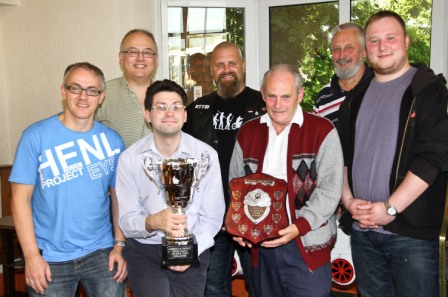 Mitchell Burke first MCCU Brit Champ winner
21 Jul. Mitchell (3Cs, Oldham, Gtr manchester) was first Midlander into the prize lists when he scored 4 points in the u2000 rapidplay at Aberystwyth.
Worcester Congress raises £900 for charity
13 Jul, Andrew Farthing reports. Winner of the open was Jude Lenier (Hastings) 4½ ponts, ahead of Joseph McPhillips (Bolton, GMC). Armel Collard (Wallington & Carshalton) won the Major, John McKeon (Milton Keynes) the Intermediate. Local players Steve Crockett and David Smith (both Redditch, Worcs) shared the Minor prize. Organisers thanked The King's School, Worcester for allowing free use of facilities and contestants for donations leading to a surplus of £900 to go to Chess in Schools & Communities. Visit congress website for full results and picturs
Warks are u180, and Notts u120 national champions
12 Jul. At the Warwick national finals, Midlands teams were in action in five sections and two came out national champions. Warks convincingly beat Essex 9½-6½for the u180 crown. Notts beat Herts 7-5 in the u120 event. In the Minor counrties Notts went down to Suffolk, in the u140 Notts lost to Hants and Warks lost to Kent in the u100. In the Open section, Yorkshire trounced Middlesex.
Bob Veitch
12 Jul, Cyril Johnson reports. Bob Veitch has died at the age of 84. He ran the correspondence teams for Leics and the tournaments for the MCCU. On a national level with quiet efficiency he maintained the BCF voting register. He played for British Telecom, Leicester then moved to Birstall Club before spending his last years at Syston. Enjoyment of the game was more always important than the result. He leaves a wife of 55 years, Jean, a daughter Nessa and two grand daughters.
Notts and Warks go to county finals
21 Jun. Notts county teams are in action at the finals on 12 July against Suffolk in the Minor Counties, Hampshire in the u140s and Hertfordshire in the u120s. Warwickshire face Essex in the u180 and Kent in the u100.
Leek Rapidplay results
15 Jun, N Staffs website reports. The u210 Cheddleton section saw five players share first on 4½/6: Jonathen Blackburn (Holmes Chapel, GMC), Simon Edwards (Cheddleton, Staffs), Ali Jaunooby (3Cs Oldham GMC), Pablo Padilla Cabero (S Birmingham) and Robert Shaw (Cheddleton, Staffs). Pawel Los (Poland) won the u145 St Edward's tournament.
Worcester players in France
14 Jun. Three Worcester City club members played in a small international bliz tournament at Le Vésinet. The tournament was won by Steve Jessell (IRL) and best placed English player Ray Collett was mid-table. See full report on Club d'Échecs du Vésinet website.
Notts beat Leics in Minor Counties championship tussle
7 Jun, Neil Graham reports. Notts, playing away at Syston, Leics beat neighbours Leics in the Minor Counties' semi-final confirming the ascendency shown earlier in the Midlands Union stage. See 2013-4 county matches national stages.
Manchester Chess Federation rejected by Northern Counties Chess Union
31 May, Mick Norris reports. In a surprise move, MCF's application to join the NCCU was voted down.
Annual meeting proposals
27 May, John Grasham reports. On 14 June MCCU members will consider policies on mobile phones at county matches, The MCCU GPs, the rules about the Open and Minor Couties MCCU team tournaments, and the possibilty of running an MCCU weekend team tournament. View details linked from the Agenda.
County team championships
17 May. In the Minor Counties, Leics beat Sussex and Notts beat Greater Manchester. In the u180, Warks beat Devon. Midlands teams are now out of the Open with Staffs failing to Kent. Kent also knocked out Staffs in the u140. Warks u120 lost to Herts. Notts u100 went down to Kent, and Midlands interest in that section is maintained by Warks. See details...
Grosvenor Casino Salford Rapidplay
11 May, John Reyes reports. In the FIDE Open, Alan Beardsworth (Stockport) was first with 5½ points from 6 games. In the Major, Mark Taylor (Rochdale) and Peter Garrett (Waterloo) shared first place and the Minor was won by Joe Kearney (Bispham, Blackpool). The event was organised by Urmston Chess Club with the casino.
Notts u140 through to semi-final
10 May, reported by Neil Graham. Notts won by a single point, Herts paying the price for a defaulted board. The following day Greater Manchester lost to Herts in the u160 championship. See details...
Annual General Meeting notice
John Grasham reports. The AGM will be held on Saturday 14 June Not a later date as originally decided last year at Syston Social Club, 36 High Street, Syston, Leics LE7 1GP. Read the minutes of the previous AGM...
Greater Manchester through
26 Apr, Mick Norris reports. In the Minor Counties Team Championship, the Mancunians easily dismissed Hampshire to enter the quarter-finals.
John Jamany wins Bolton Easter Open
20 Apr, Rod Middleton reports. John (Scarborough, Yorks) bested the top seeds to end in sole first place with 4½ points from his 5 games in the Open. Adam Ashton (Urmston, GMC), on 4, was second. Philip Olbison (Chorlton, GMC) won the Major and John Pendlebury (Worsley, GMC) won the Knights tournaments, winning all their games. Adam Ashton achieved consolation in the Busy Person's Blitz winning with 7½ points from 8 games. Just under 100 players entered in this congress organised by Roderick Middleton.
Three share Staffs Open first prize
13 Apr, David Anderton reports. IM Geoffrey Lawton (Birmingham) Malcolm Armstrong (Stafford) and Tomasz Sygnowski (Wolverhampton) each scored 4 points from their 5 games. For Geoffrey a successful outing in his first competition for a decade. Jonathan Hunt (Wolverhampton) won the Major, and the Minor was shared by Bill Egan (Scunthorpe), Francis Rooney (Church Stretton) and Marco Ho (Lichfield). You can download four of the decisive games in the Open (pgn format) from the GP games page.
ECF fees unchanged
12 Apr, ECForum reports. At the annual Finance Council meeting, membership subscription rates and Game fees were not altered and the federation appears to be on course to make a satisfactory surplus this financial year. The federation will further examine the establishment of a charitable body for the amateur game. Former president Andrew Paulsen was denied endorsement for his views on the European Chess Union. This potentially devisive meeting, held in London, was ably chaired by Mike Gunn.
Midland GP wide open
8 Apr. After the Nottingham Congress with two events coming up soon, there is all to play for in the Midlands GP. David Coates (Lincoln) was outside the prize list at Nottingham, but still retains the GP lead on 11½ points. He is pursued by Ali Jaunooby (Denton, GMC) on 9½ points, GM Mark Hebden (Leics) on 8½ points with Tony Hynes (Warks) and Alex Posazhennikov (W Nottingham) both on 7 points.
Midlanders top ECG GP leaderboard
1 Apr, ECF website reports. Ali Jaunooby (Denton, GMC) is to followed by GM Mark Hebden (Leics)
Three-way tie in Open at Nottingham Congress
30 Mar, Neil Graham reports. Mark Hebden had to settle for a shared first place with Mike Barnes (Nottingham Gambit) and Alex Posazhennikov (West Nottingham), who defeated the Leics GM and qualifies for the Britsh. In the Major, Hari Solominides (West Bridgford), Richard Desmedt (Wombwell), Robert Clegg ((Huddersfield), Sam Herring (Oundle Sch) and Bredan O'Gorman (DHSS) shared the lead on 4 points. In the Intermediate, Peter Gorecka-Marshall (Nottingham Gambit), Steve Foster (Nottingham Central) and Robert Wallace (Melton Mowbray) shared first. Shah Hussain (West Nottingham) was clear first in the Minor with 4½ points. Over 160 players entered.
English Rapidplay
29 Mar, ECF website reports. Ameet Ghasi (Warks) and Alexander Longson (Marple, GMC) shared second place on 8½ points and were highest placed Midlanders. The event was won by GM Danny Gormally with 9 points. In the Minor, Gary Jackson (Redditch, Worcs) won a grading prize.
Birmingham MSI Prix
29 Mar, ECForum reports. At the Birmingham MSI Prix organised by Andrew Moore, the open was won by : Ankush Khandelwal (Warwick Univ) and Henrik Stepanyan (Sutton Coldfield). Noel Brown (Sutton Coldfield) won the Major and Kathirvel Balakrishnan (Solihull) the Minor.
Cannock Chess Club win Chase Trophy
27 Mar, Ray Dolan reports. Cannock beat Sutton Coldfield to win this Cannock & District League trophy for the first time.
North Staffs now from Apple App Store
22 Mar, Steve Emmerton reports. After the first for Kindles and Android devices this free app is now available for iPhones, iPads and iPods from the Apple App Store.
Keith Arkell wins European Senior Championship
17 Mar. With 7 points from his 9 games, Keith was in sole first place ahead of Kalegin (Rusia) and Sturua (Turkey) both on 6½ points. Keith went through the tournament without losing a game.
Historic Nottinghamshire MCCU county team championship win
15 Mar, Neil Graham reports. In a tight match, Notts win by a single game to take the championship possibly for the first time since 1931.
Final MCCU u120 county match confirms Staffs supremacy
15 Mar, Peter Evans reports. Staffs u120 comfortably beat Worcs at Wolverhampton.
MCCU National stage nominations accepted
15 Mar, Peter Sherlock reports. Nottinghamshire with two MCCU champions, are playing for four national titles: Minor, u140, u120 and u100. Staffs and Warks are playing in three and Leics and Manchester in two of the national stages.
Ameet Ghasi Warwickshire champion
2 Mar, Warks CA reports. Ameet Ghasi (Birmingham) was in sole first place with 4½ points. The major was won by Robert Taylor (Preston, Lancs) with a score of 4 from 5 games. In the intermediate section, Rajagopal Panicker (Oxford) and Stephen Williams (Wales) shared first with a score of 4 points. In the minor section, Stephen Crockett (Redditch, Worcs) and Rowan Swiers (Warwick Univ) shared first place with a score of 4 points. See the county website for full results.
North Staffs have chess app
25 Feb Steve Emmerton reports. North Staffs District Chess Association is the first English chess organisation to have an app for smart phones. To keep up to date with the latest at NSDCA, download it for free from the Apple App Store, Google Play Store or the Amazon App Store for Kindles. Feedback please to Mike Smith (Fenton).
Draw for national stages of County Championships
19 Feb, Peter Sherlock reports. National controller Andrew Zigmond has notified Union controllers. Using the names of top Midlands teams, some of whom may need to confirm their nominations, they are published on the "County Matches" > "National stages" page.
New chess laws
3 Feb, Cyril Johnson reports. The biggest re-write of the Laws of Chess for many years comes into force in July. Their complexities may lead to disputes and Syston Chess Club has invited ECF Chief Arbiter, David Welch to present a seminar on the new laws. Visit the congress and events page to see more details. Update: Cyril reports that the date for this seminar is now Sat 5 Apr.
GM Keith Arkell wins Stockport Rapidplay
26 Jan, Rod Middleton reports. Undisputed first in the Open tournament, Keith was half a point ahead of Joseph McPhillips (Bolton, GMC), Nigel Davies (Leyland, GMC) and Adam Ashton (Denton, GMC). Richard Burton (Wales) and Robert Taylor (Preston) shared first in the Major, Steven Potter (St Helens) was first with 6 points from 6 games in the Intermediate, and Ahmed Abbas was first in the Minor.
Notts and Leics to go head-to-head for Midlands team championship
25 Jan. Notts beat Staffs and Leics beat GMC in the semi finals.
Ameet Ghasi wins Nottingham Rapidplay
19 Jan, Neil Graham reports. Ameet Ghasi (Warks) won all his games to eclipse GMs Mark Hebden and Keith Arkell, who also participated. The major was won by Shabir Okhai (Birstall, Leics), the Intermediate by Pawel Golimowski (Spalding, Lincs) and the Minor by Peter Ellis (Rolls Royce, Derby). For complete results visit Notts CA website.
Warks and Notts share u100 team championship
18 Jan. Warwickshire beat Notts to share the lead when two very evenly matched teams met at Bramcote, Nottingham.
MCCU officer to step down
10 Jan. Andrew Moore who was appointed as congress secretary shortly after the 2013 annual meeting tells us that he finds himself with less time since his recent marriage and will not be seeking re-election for 2014-5. Anyone willing to undertake the role of congress and or the vacant post of Events Director next year, please contact Ray Dolan.
Mark Hebden shares first prize at Hastings for second time
5 Jan. In a pile-up, Mark shares first prize with six (!) players on 6½/9 points in the annual Hastings International Chess Congress. Mark last shared first place as long ago as 1996/7 and is the first English player to make the top spot since the 2000/1 tournament. Maralso leads the 2013-4 ECF Grand Prix by a wide margin.
Mike Surtees wins Shrops Open
5 Jan. Mike (Great Lever, GMC) had a clean sweep with 5 points from 5 games. Second was James Cobb (Bristol) on 4½. Joshua Pink (Coventry, Warks) won the Major with 4½ and John Brooke (Harrogate) won the Minor.
Midlanders near top in graded ECF Grands Prix
2 Jan. In addition to Mark Hebden, see above, Mark Whitehead (Rochdale GMC) is second in the 160-179 and Dean Hartley third in the 140-159 competitions.
BBC broadcast Across the Board
30 Dec. The game between Dominic Lawson and John Healy went out at lunch-time. It is the first of a mini-series of interviews Across the Board and the first BBC broadcast chess for over 50 years.
Staffs and Warks for county team national stages
26 Dec, Peter Sherlock reports. Staffordshire's MCCU nomination for the national stage of the Open county team championship and Warwickshire's nomination for the u180 county team championship have been confirmed. Remaining nominations await the results of outstanding MCCU county team matches.
Midlanders in latest Chess Moves
13 Dec. Andrew Farthing (Worcester) and Steve Crockett (Redditch/Birmingham Univ) contribute articles. See Chess Moves.
Tong Qiu first in Bury Rapidplay Open
8 Dec. Tong (Urmston) scored 5 from 6 games. Three players Joseph McPhillips (Bolton), Adam Ashton (Urmston) and Mike Surtees (Great Lever) shared second place. Read more and find links to pics on the ECF website.
Stephen Crockett (Redditch/S Birmingham) forged further ahead in the Midlands u150 Rapid GP by winning the Minor section. See RGP pages for latest player totals.
Mark Hebden first at Leics Atkins Congress
1 Dec, Leics CA report. On home territory, Mark again triumphed, and without loss. IM Vuilleumier (Switzerland) and Stephen Prior (Lincs) were joint second in the Open. The Major was shared by local player Richard Hanscombe (Barunstone), Rhys Bennett Newport, Wales) and Andrew Lake (Boldmere, Warks) and the Minor was won by Colin Weller (Scarborough, Yorks). The event was at Regent College and over 160 players participated. Visit Leics CA for full results.
Double joy for Staffs in County match results
7 Dec. In the minor counties, Leics beat Lincs, Staffs beat Worcs, GMC beat Warks and Notts beat Derbys. In the u120 competition, Staffs beat Notts comfortably. Neil Graham reports that dates for the national stages have been published: Preliminary round 26 April 2014; quarter finals 17 May; semi-finals 14 June; and finals on 12 July.
Champions beaten in opening match of u140 county teams
30 Nov. Notts, playing away, narrowly defeated the national u140 champions Shrops.
Harry Ratner, Breadsall CC founder, dies
Andrew Toothill and Neil Graham report. Harry Ratner was a founder of the Breadsall Chess Club, played for Spondon, and was a regular contender for the Derbyshire Championship. He passed away peacefully on 23 October aged 93. There is a brief obituary on the Derbyshire CA website.
Midlanders win at ECF Rapidplay
24 Nov. The Open event at Leeds was won by Leics-based GM Mark Hebdon with 9½ points from 11 games. Steve Crockett (Birmingham Univ/Redditch) won the u120 tournament.
Leics u100 team bounce back with win against Warks
23 Nov. After a shattering earlier loss, Leics away, overcome Warks.
Notts u100 with another overwhelming win
16 Nov. Notts u100 beat Staffs
Mancunians lead u160 and Notts u120 team tournaments
9 Nov. In the u160, Mancunians beat Warks while Leics and Notts draw. In the u120, Notts beat Worcs by a large margin and Staffs beat Lincs.
Joseph McPhillips and Tong Qiu share Bolton Rapid play Open win
3 Nov. Joseph (Bolton) and Tong (Urmston) won the Open with 5½ points from 6 games. Robert Taylor (Preston, Lancs) won the Major and Steve Crockett (Birmingham Univ) the minor. Further information. Steve's win tmakes him clear favourite for the Midlands u150 Rapid GP.
Mancunians win again and Staffs recover with win against Warks
3 Nov. In the Minor Couties team competition matches Manchester and Staffs win.
End of an era at Spondon
1 Nov Andrew Toothill reports. The closure of the Celanese site at Spondon, Derbys means the club moves to the Bridge Club in Spondon. Spondon chess club met for over 60 years at British Celanese canteen, which venue was also regularly used for Derbyshire's home county matches.
New FIDE chess rules from July 2014
16 Oct Cyril Johnson reports. The official English text (.pdf) of the new rules approved at the congress in Tallin last year have been published and come into force July 2014.
GM Hebden wins Birmingham Rapidplay and two lead Midlands u150 Rapid Grand Prix
13 Oct. In the Open, GM Hebden (Leics) was first with 5½ points followed by Ameet Ghasi (Birmingham) on 5 points. The Major was won outright by Joseph Friar (Hagley, Worcs) on 5points; the Intermediate was shared by James Cole (Magdalene Coll, Oxon), Nathan Talbot (Wigan, GMC) and Daniel Varney (Cumnor, Oxon); Ray Hall (Birmingham) and Stuart Calderbank (Stratford, Warks) shared the Minor prize. Stuart and Steve Crockett (Birmingham Univ) now lead the RGP. The event was organised by Alex Holowczak and Dave Thomas and attracted just under 100 players. See full cross-tables and results and link to selected games in the Open on Birmingham Rapidplay website.
ECF elections: Andrew Paulson ousts Roger Edwards
12 Oct. Roger Edwards (Staffs) was knocked out by Andrew by 169 to 106 votes in the election for President. The other MCCU nominee, Andrew Moore (Worcs) was also defeated and fomer Junior Director Phil Ehr was elected to the post of Chief Executive. In the contested elections for Non-executive Director, Sean Hewitt (Leics) and Julian Clissold (Gtr Manchester) retained their posts. Alex Holowczak (Warks) as Director Home Chess and Lawrence Cooper (Shrops) Director for Junior Chess were appointed without contest.
No change for county team championships
12 Oct. The ECF annual meeting decided that the numbers of players in 2014-5 teams remain the same as this season after a tight vote 89-88 and a southern counties' proposal about board order was rejected.
ECF annual meeting
12 Oct. A number of issues were debated: procedures for imposing sanctions against players found to cheat will be established; and the Board will review of the balance between the voting powers of direct members and affiliated organisations and whether directors should be elected by individual members. For more information, see Andrew Farthing's summary of the meeting.
Upset in first county match results
5 Oct. Midlands team champions beaten. See county match pages.
Steve Crockett an early leader in the Rapidplay Grand Prix
17 Sep. After the first event at Leamington, Steve Crockett (Redditch, Worcs), Drag Sudar (Braunstone, Leics) and Stephen Tarr (Priorslee, Telford, Shrops) are in the lead on 5 points. See RGP leaderboard for position to date.
Leamington Rapidplay
16 Sep. Marcus Harvey (Bicester, Oxon) won the open winning all his games. Best placed Midlander was IM Ameet Ghasi (Warks) and Golam Ali (Sutton Coldfield, Warks). Helge Hjort (Denmark) with 5 was first in the Major; DRag Sudar (Gambit, Nottingham) and Stephen Tarr (Priorslee, Shrops) shared the Intermediate on 5 points; and Stephen Crockett (Redditch, Worcs) won the Minor with 5 points. A hundred players entered, organised by Guy Greenland and controlled by Alex Holowczak, Bruce Holland, Matthew Carr and Adrian Elwin. Full results are on the Leamington & District league website.
David Coates leads Midlands Grand Prix
9 Sep. After two congresses, David Coates (Lincoln) is placed first with 6 points.
Triple tie in Manchester Autumn congress
9 Sep Mick Norris reports. Just under one hundred players competed. There was a very strong Open with six players graded over 200. The joint winners of the Open were Ali Jaunooby (Denton, GMC), Alexander Longson (Marple, GMC) and Qiu Tong (Manchester). Qiu played in the World under 14 Championship for China in 2005. Rod Middleton and Julian Clissold controlled.
Midlands counties team tournaments
2 Sep 2013. Peter Sherlock has announced the structure of this season's team tournaments. After protracted consultations, the Open two divisions for the open and minor have been combined and eight teams compete for the championship in east and west divisions followed by finals. Read more on the counties page...
Archived news from 2012-3 seson